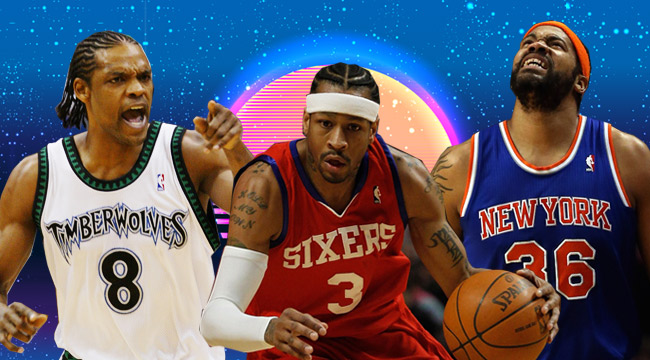 Basketball fans got a wonderful piece of news on Tuesday. According to The Vertical, Allen Iverson is going to join Ice Cube's new 3-on-3 basketball league, BIG3. Iverson will join as a player/coach along with a handful of other ex-players: Chauncey Billups, Stephen Jackson, Rashard Lewis, Kenyon Martin, Jermaine O'Neal, and Jason Williams. Although Michael Jordan isn't having any part of it, according to Iverson.
This league is going to rule. It is a collection of basketball players we enjoyed watching in their heyday playing half-court 3-on-3, what could possibly be more fun than that?
Well, one thing: what if we got to make up the teams? What if Ice Cube came to us and gave members of our staff the opportunity to make their dream BIG3 squads? We decided to discuss, and let's just say most of us are psyched that Iverson is joining the league.
Ashley Burns – Karl Malone, Dennis Rodman, Shaquille O'Neal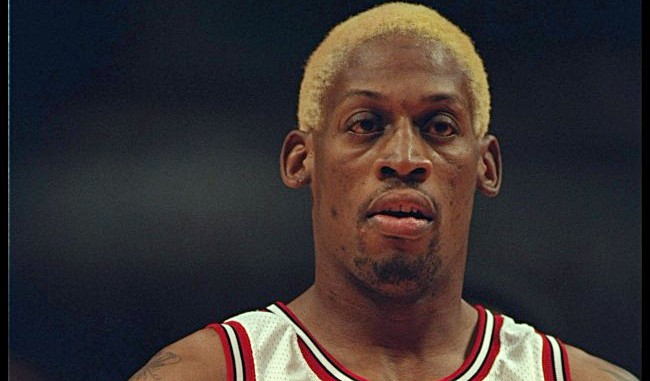 Your team can ball. Cool. Know what my team can do? Wrestle. Specifically, while your old farts are chucking bounce passes off each other's feet, my guys are gonna be clotheslining them into the stands, or dropping elbows on them after hard fouls (oops!) send them to the floor. By the time the nWo music ends, your fogeys will be hooked up to the oxygen tanks while they're treated for bruises from the chair shots our team's manager, Jimmy Hart, delivers from courtside. Added bonus: At halftime, my team will provide its own entertainment as DJ Rony Seikaly joins Rodman on the tables, with Golden State's Dancing Mom at center court, for an exotic dance party.
Brian Grubb – Allen Iverson, Latrell Sprewell, Rasheed Wallace
It is very upsetting that we never got AI and Sheed together in their primes, for a lot of reasons. The first one, clearly, is that it would have been fun, and if the internet as we know it today existed then, it would have led to thousands and thousands of words and memes and joint press conferences that engulf Twitter in flames. Another reason: they actually would have fit together pretty well. With Sheed's ability to hit jumpers, the big man guarding him would be constantly pulled away from the hoop, leaving AI room to slash in to the basket and score, or kick it out if Sheed's man collapses to contest the shot. Also also, AI played in Philly and Sheed is from Philly, so #GoSixers. It's perfect.
The third member of my team is Latrell Sprewell because, I mean, why not at this point?
Ryan Nagelhout – Allen Iverson, Nate "Tiny" Archibald, Nate Robinson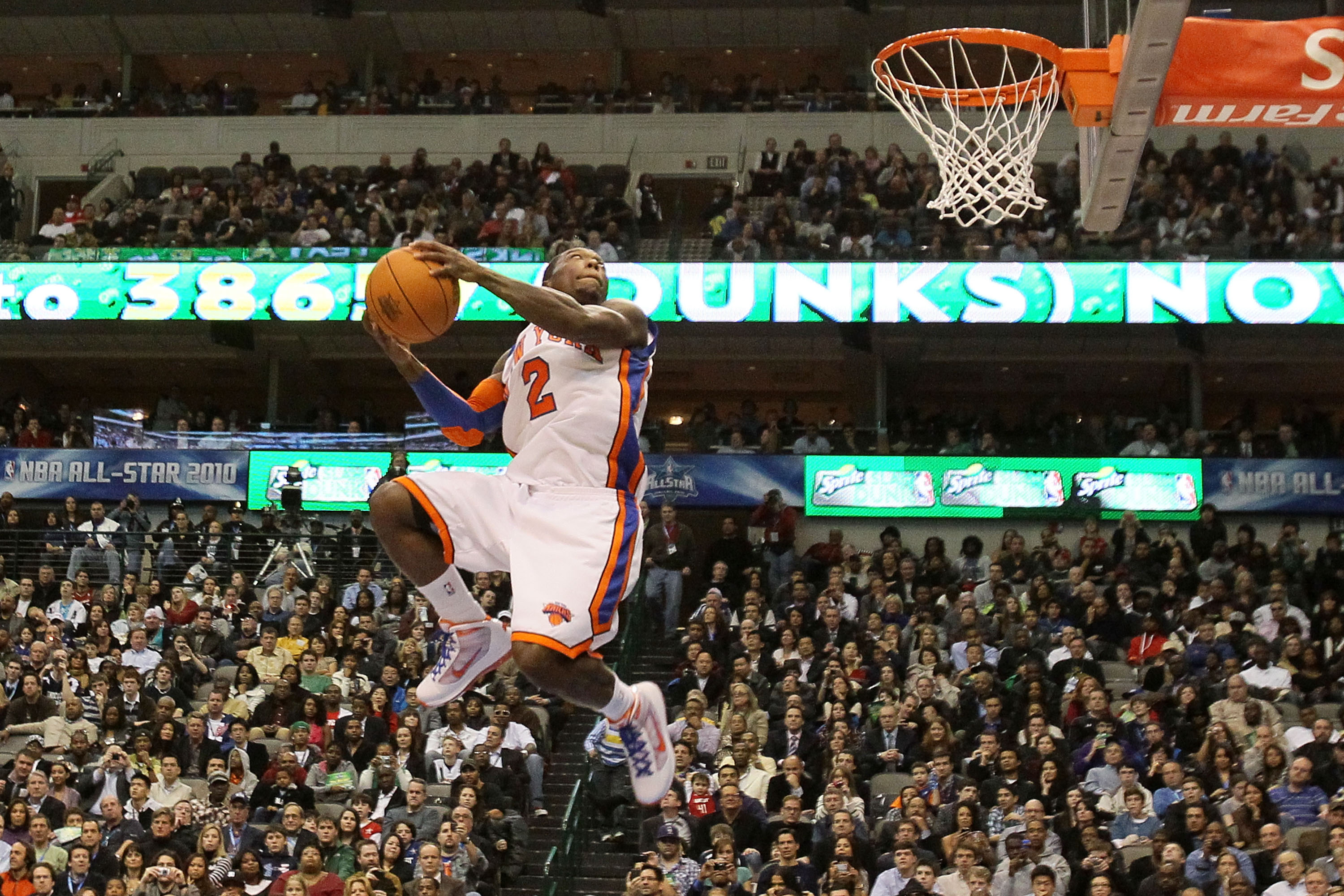 A game of 3-on-3 isn't about impeccable execution or great coachability or anything that isn't being faster than the people trying to play defense. So let's go with old man speed and hope it works. I want fast dudes who can take advantage of all that space on the court, blow by man on man defenses, and score. So give me Allen Iverson, who is still lightning-fast and can obviously hang because he never wasted himself in practice like these other retired fools. I also want some variety in eras, so I'm taking Nate "Tiny" Archibald. That dude had wheels, and height doesn't matter as much if the tall guy can't keep up. Let's round this squad out with the freshly-retired Nate Robinson, who set state records in track while in high school. I know Nate wants to play in the NFL, but forget about that. You might get stuck on the Browns, baby baby. Come play for a real winner.
Jamie Cooper – Jason Williams, Kobe Bryant, Tim Duncan
This is probably the most boring answer you'll read today, but it's all about the W, right? Let's start with Jason Williams. At 40-something years old, White Chocolate is still making defenders look silly down at the Orlando Pro-Am every summer and, along with fellow retiree Mike Bibby, also had a decent run at the Basketball Tournament last year.
Rounding out the rest of the team are Kobe Bryant and Tim Duncan, both of whom should be self-explanatory. All three have championship experience, and all three are still physically capable of playing 3-on-3 basketball in a half-court setting. I'll throw in KG as a backup to give the trash-talk and intimidation factors a boost.
Bill DiFilippo – Jason Williams, Allen Iverson, Hakeem Olajuwon
GUARD: Jason Williams. I spend a few hours every month watching his highlight videos, including those videos of him just clowning fools in the league he plays in now. You can put White Chocolate on a team with two corpses and I'd watch him try to figure out a way to pick up 10+ assists. It would rule.
GUARD: Allen Iverson. Tell me you wouldn't spend money to watch J-Will and A.I. team up in a backcourt and get buckets against everyone. You cannot do this, because you would be lying.
BIG MAN: Hakeem Olajuwon. This team needs someone who can protect the rim. I am willing to bet that Olajuwon can still do that. In 3-on-3, it also helps when your big man can score from anywhere within, like, 15 feet, put the ball on the floor when needed, and pass, especially when your guards are as slippery as J-Will and A.I.
Martin Rickman – Mark Price, Baron Davis, Scottie Pippen
A bunch of dudes I originally would've taken were already selected, and you don't want to see AI, J-Will, or Duncan on yet another team. So I'm going with a different approach. I want a versatile point guard who can guard anyone and is familiar with playground ball. That's Davis, who is a Drew League alum, is still in playing shape, and is ideally suited to the 3-on-3 game.
I also want Pippen because I think he's got something to prove. We keep hearing rumors he's able to make a comeback, even now. I believe it. But not in the NBA. In a 3-on-3 league against other guys his age. He'd dominate. Again, this is calculated. I want at least two guys who can rotate and guard multiple positions, and Pippen will hit a J, dunk on you, and D you up. You don't want any part of him.
Finally, there's something about having a deadly outside shooter who will straight up embarrass you at any time. Try and tell me Mark Price can't still drain 3s at an unbelievable clip. Plus you're going to forget about him trying to chase down Pippen and Davis. This team is deadly, and will play team ball.