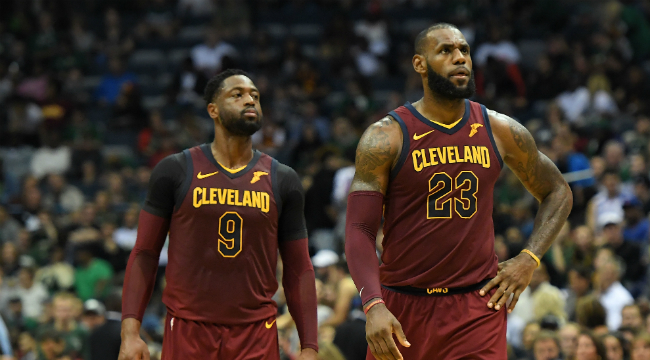 The Cleveland Cavaliers are having a rough year, and with injuries and internal frustration starting to pile up, this could get worse before it gets better. Yes, it's hard to imagine a lower rock-bottom than losing on your home floor to a team that entered the matchup with a near-league-worst 1-8 record, but if the Cavaliers' postgame comments are any indication, they aren't anywhere close to improvement.
To make matters worse, and to add to the rapidly-growing injury list, Kevin Love left Sunday night's matchup with the Hawks in the third quarter and had to be transported to the hospital. It doesn't appear to be serious, but still, that's some impressively bad luck.
Channing Frye kept his postgame comments short and sweet, openly admitting that the Cavaliers suck right now. Dwyane Wade wasn't so vague and fired some of the blame squarely at Cleveland's first unit.
We all know this. There is no secrets in this locker room, but our first unit. We've got to start off better. I want one time for the first unit to get on the second unit because we blew a lead. I'm waiting for that day to happen. We've definitely got to start off better. I know it's a long season, and we've got time to correct it, but you don't want to be losing these games.
As harsh as Wade's comments might sound, he makes a fair point. The Cavaliers lost the first quarter in Sunday night's matchup with the Hawks 37-28, and it was worse than that before the second unit entered the game.
What makes Wade's comments particularly interesting was all the noise surrounding his initial move to the bench. When Ty Lue first announced that Wade would be starting over J.R. Smith, Smith questioned if it was the right call for the team long-term. Now, Wade's on the bench, and he's essentially questioning if the starting unit needs some tweaking.
LeBron James can't score 57-points every night, and if he tries, the Cavaliers run the risk of seriously breaking him down before the playoffs even start. While Wade was correct in his criticism and the fact that there is still plenty of time to right the ship, that process needs to start now.