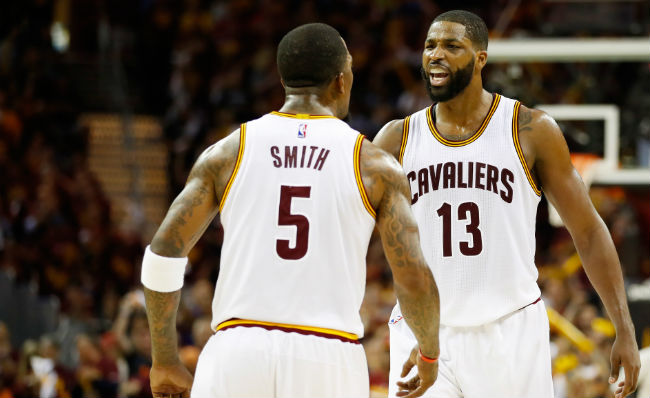 J.R. Smith is heading to the bench for the Cleveland Cavaliers, and he's not happy about it. Smith has said all the right things over the summer, but now that he's officially not in the starting lineup for Cleveland, he's made his frustrations clear.
Smith, however, is trying not to make those frustrations a distraction or an issue with anyone on the team, including his replacement, Dwyane Wade. Smith talked to the media about his demotion on Tuesday and seemed angry with himself more than anything.
Smith told Cleveland.com that he's talked to Tristan Thompson, another Cavs player who is moving from the starting lineup to the bench. And they're both frustrated with their roles on the team.

"We talked about it," Smith said. "It wasn't the most positive conversation, but we talked about it and we'll get through it together."
Smith said he was "absolutely" frustrated with the demotion, but that he was "bracing" himself for it given Wade's talent and the relationship he has with LeBron James.
"Was working hard all summer and then coming in and not even really having a chance to earn my spot, but it's alright," Smith said. "It is what it is."
It wasn't all bad from Smith, who genuinely doesn't want to make this a big thing. He said he will use his time on the bench wisely and is ready to contribute in whatever way he can to the Cavaliers.
"I actually like playing on the second unit better, I'm more of a playmaker and distributor and I handle the ball a little bit more instead of just running to the corner," Smith said, referring to the catch-and-shoot role he's played for three seasons here.
Smith had said in the past that he's not going to make the guard position a "blank measuring contest" between he and Wade. Despite his frustrations with his position, he's not saying he should be starting over Wade. Like anyone, he just wants to start anyway.