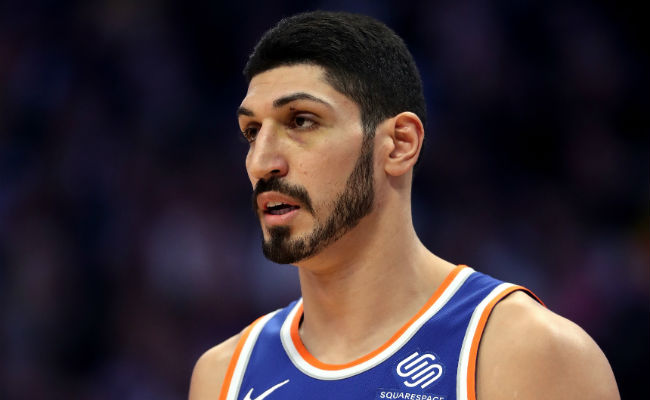 The New York Knicks recently benched Enes Kanter, but on their upcoming trip to London they'll be without the Turkish forward for much more serious reasons.
Kanter said late Friday night that the team will travel without him to the UK, as he'll stay behind and practice while the Knicks play the Wizards on January 17 in London. But Kanter isn't just trying to avoid international travel, he's trying to avoid losing his life. Kanter said he won't travel for fear that he might be killed by agents working for the government of his native Turkey.
Asked by reporters about the trip after a win over the Los Angeles Lakers on Friday, Kanter explained how "that freaking lunatic, the Turkish president" Recep Tayyep Erdogan, could make an attempt on his life were he to travel outside the United States.
https://twitter.com/notoriousohm/status/1081448550045630464?s=21
"I talked to the front office. Sadly I'm not going because of that freaking lunatic, the Turkish president," Kanter said. "There's a chance I could get killed out there."
Kanter has been highly critical of the Turkish president, who he's called a dictator among other criticisms. The Knicks forward has been unafraid to call Erdogan out publicly, and that continued on Friday as he explained to reporters that he can't risk traveling to England later this month.
"It's pretty sad that all the stuff affects my career and basketball because I want to be out there and help my team win," Kanter said. "But just because of one lunatic guy — one maniac, one dictator — I can't even go out there and do my job. It's sad."
Kanter was asked if he really thinks he would put his life at risk traveling outside of the United States and he explained his fears pretty plainly.
"They got a lot of spies there, Kanter said of the Turkish government, which has vowed to punish Kanter for public criticisms in the past.
If this all sounds a bit too paranoid, it's important to note that Kanter has received death threats and been publicly targeted by Turkish leadership a number of times over the years. And Kanter has gotten into trouble when traveling as a result. Two summers ago, Kanter was detained in Romania after the Turkish government cancelled his travel documents following public criticism of the government and a recent election.
Kanter returned to the United States and New York City safely, but Turkey issued an arrest warrant for Kanter that still sees the NBA player facing four years in Turkish prison. In 2018 he stumbled into further trouble when he criticized former NBA player Hedo Turkoglu, who serves as an advisor to Erdogan and runs Turkey's basketball federation.
Despite that, Kanter has continued to criticize Erdogan and Turkey's regime from afar. Just last month, Kanter lashed out at Turkish leadership and the NBA in general when a post highlighting Turkish players in the Association failed to mention Kanter, arguably the best of the bunch. Kanter called those involved "scared little rats". There's no question Kanter will continue to be outspoken about Erdogan and Turkey in the future. He just may not be traveling outside the United States much until leadership in his native Turkey changes.