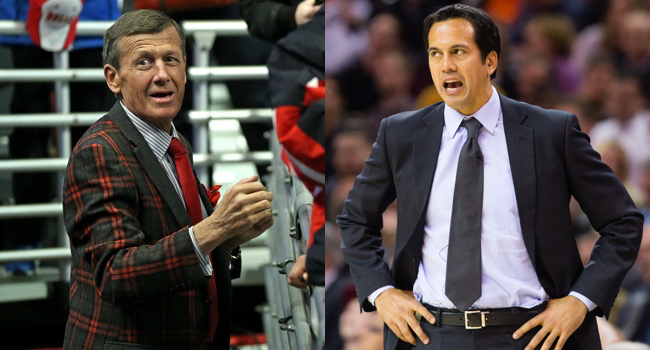 Cherished Turner sideline reporter Craig Sager made his return to the NBA hardwood earlier this month, but wasn't able to return for March Madness as he continues to combat the Leukemia that kept him away for the previous 11 months. Sages got support from around the NBA during his fight with cancer, but he was offered a unique gift from Miami Heat coach, Erik Spoelstra, as he told Hochman and Krantz Monday morning.
Miami's Marc Hochman and Zach Krantz were discussing the recovery of Chris Bosh, who is on blood thinners after being diagnosed with blood clots in his lungs. Bosh will miss the remainder of the 2014-15 season, but plans to return next season.
Sager has faith, too, since Erik Spoelstra and the rest of the Heat organization were so supportive of him when he was in the hospital. With a hat tip to CBS Miami for finding and transcribing, comes word of the Heat coach's rather unique gift to Sager (emphasis ours):
"This is the Miami Heat organization, they're very supportive of me and I talked to all your guys down there," Sager said on 560 WQAM. "Coach Spoelstra was sending me care packages from Hooters. So I know that Chris is in good hands, he has a great support system down there, and he will make it through."
Come again?
The radio hosts glossed over the Hooters comment like it wasn't the most important thing Sager mentioned. What on earth possessed Spoelstra to send a Hooters care package? As CBS Miami's Josh Baumgard mentions, what is even in a Hooters care package? Coupons for wings? A pumpkin orange swimsuit (actually that's probably a hue Sager enjoys)? Does Sager just really love Hooters? This whole story sounds like the most Florida thing in the world.
After a little digging, we found that a recent Hooters care package sent to some troops involves 10 picture messages of a Hooters girl in a bikini, Hooters hot sauce, and some toothbrushes and mints from "The Oral Health Girl."
Get ready Bosh. This is all part of the Spoelstra recovery plan.