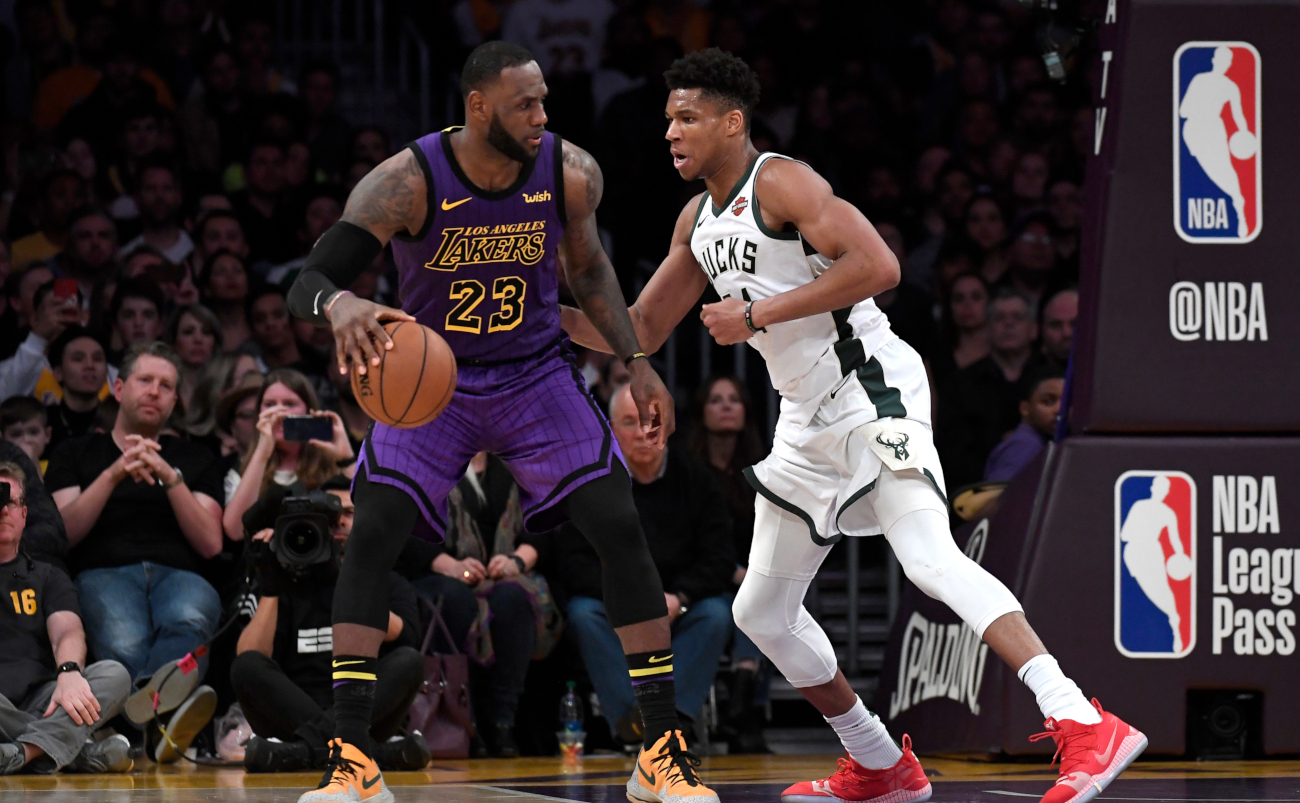 Giannis Antetokounmpo is in the midst of a potential MVP season, with his first signature sneaker from Nike on the way either in late summer or early fall.
There may be no better time to capitalize one widespread popularity and notoriety for a budding, global superstar like Giannis then right now, but he seems rather content to continue doing what he does, a half-step out of the spotlight. I say half-step because there's no way for Giannis to be a true recluse, when his on-court performance won't allow it and, certainly, some of his sponsors will insist on putting him out there more.
That said, Antetokounmpo isn't rushing to embrace his newfound fame by taking on a lot of new opportunities that will arise with his ascent to being one of the NBA's elite. This summer, LeBron James will begin work on the highly anticipated Space Jam 2 and for it he'll need some of his fellow NBA stars to take on roles in the movie — as Charles Barkley, Larry Johnson, Muggsy Bogues, Patrick Ewing, and Shawn Bradley did for Michael Jordan in the original.

Since the announcement of the movie, many have done their own personal dream casting for who the Monstars will steal powers from, and Antetokounmpo is on many people's lists. However, according to ESPN's Malika Andrews, Giannis turned down a role in the film, being unwilling to give up the two weeks of personal training needed to make an appearance in the movie.
Antetokounmpo does make summer modifications to accommodate for relaxation and family time. Still, when approached about starring in "Space Jam 2" with LeBron James, Antetokounmpo declined. Being in the film would have required him to give up two weeks of private workouts to train with his fellow stars while making the movie, a total non-starter, given Antetokounmpo's reclusive tendencies.
As Andrews' story illustrates, Antetokounmpo is a creature of habit and routine to a rather ridiculous degree, but that's part of what the Greek star attributes to his meteoric rise to superstardom. Antetokounmpo recently explained why he's not the friendliest with his fellow competitors around the league, citing Kobe, Jordan, and KG as inspirations for keeping the opposition at a distance, so it's not a surprise he wouldn't want to spend his summer on set with other NBA stars, even if LeBron and company plan on doing plenty of on-court work on set.
Giannis will certainly miss out on some exposure to the non-hoops world by not joining the Space Jam 2 cast, which may disappoint some at Nike and other sponsors, but it's clear his focus is on basketball and basketball only. That's what got him to this point and he figures it will take him wherever he needs to go.
Beyond that, with Giannis crossed off the list, it's going to be very interesting to see who LeBron is actually able to get to join him for the movie. There will surely be some who jump at the opportunity, but it's clear not every top star is going to be totally interested.