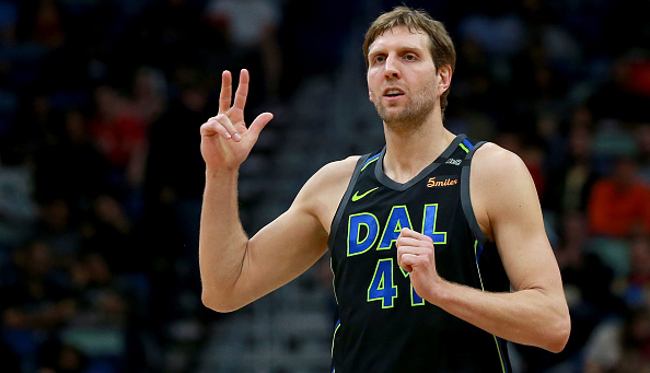 Nobody expected much out of the Dallas Mavericks this season. In all honesty, this season is mostly about showcasing rookie sensation Luka Doncic and building toward the future.
But it also might turn out to be a farewell tour for franchise legend Dirk Nowitzki. Now playing in his 21st NBA season, the 40-year-old Nowitzki has been nursing injuries and old age while being limited to just 10 games so far, none of which bodes well for his future basketball career.
So when the Mavs visited Boston on Friday night, the home crowd decided to show their appreciation for Dirk by giving him a standing ovation when he entered the game in the first quarter and cheering for him to make a bucket before the final buzzer.
Dirk, unfortunately, was never able to get that shot to fall and finished the game 0-of-10 from the field. Afterward, Celtics star Gordon Hayward admitted that he was rooting for Dirk to make a shot, along with everyone else in Boston on Friday night.
Teammate Jaylen Brown and head coach Brad Stevens were also in agreement.
Speaking to reporters after the game, Dirk talked about how much he appreciated the reception he received at TD Garden. You can see the full interview below.
While he has not officially announced whether this will be his final NBA season, you can be teams around the league will treat it as such every time he comes to town, just in case.