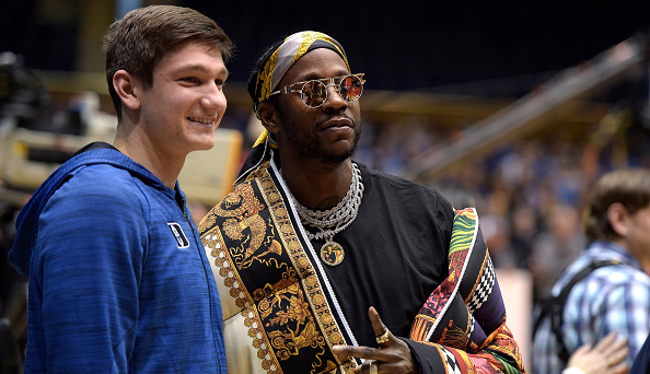 Grayson Allen got to have his own senior day on Saturday, the lone Duke senior on the roster for the Blue Devils. That's a rare occasion in college sports, but it was even more special when 2 Chainz showed up at Cameron Indoor to hang out.
Allen and the Blue Devils play rival North Carolina on Saturday night, and ESPN brought College Gameday to campus to broadcast before the big game. 2 Chainz appeared on the broadcast and was hanging out as well, which meant Allen and the rapper got to share some face time in Durham on Saturday.
It's a bit of a weird pairing, honestly. Allen isn't the most well-liked athlete in college sports, and 2 Chainz is a beloved Georgia rapper who inspired one of the best now-deleted Tweets about the Fibonacci sequence ever. But the two seem to be getting along just fine.
The first photo here, with Allen's reflection in 2 Chainz's sunglasses, is truly incredible.
https://twitter.com/DukeMBB/status/969995842651385856
Here's a bit more of a traditional photo of the duo.
2 Chainz really seemed to enjoy himself on Saturday, too. When a kid won $18,000 on College Gameday by banking in a half court shot, Chainz was there to celebrate on the court with him.
He got two cracks at making half court shots of his own, but he couldn't get them to fall. That's OK, though. He seems to be having fun anyway.