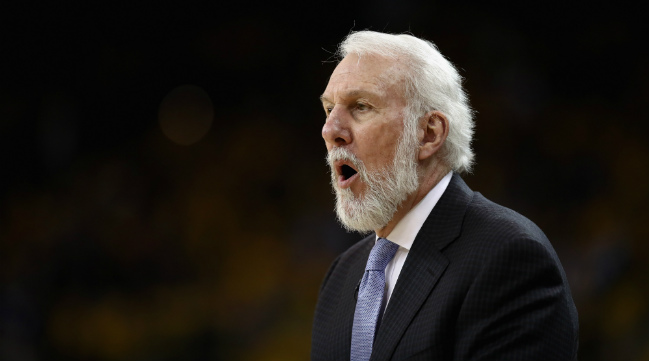 The game of basketball has gone through plenty of changes over its long and rich history, with different styles and approaches to the game becoming en vogue over the years. Right now, the game is in the middle of an era where three-pointers are all the rage, with teams letting it fly from deep at record numbers.
This is because teams understand the value of a three-point shot, especially compared to basically every other shot that a player can take that isn't right at the rim. Strategically, the best thing for teams to do in most instances is let it fly from three. This is something that drives Gregg Popovich insane.
Popovich has spoken in the past about how much he hates the NBA's reliance on shooting threes, which has been a pet peeve of his for years. He's gone as far as to say he'll never embrace it and that he does not consider it basketball. His latest anti-three rant came in a piece written by Sam Smith in which Popovich more or less took a flamethrower to the concept of the triple.
Via NBA.com:
"These days there's such an emphasis on the three because it's proven to be analytically correct," Popovich Monday offered with what appeared to be a sneer. "Now you look at a stat sheet after a game and the first thing you look at is the threes. If you made threes and the other team didn't, you win. You don't even look at the rebounds or the turnovers or how much transition D was involved. You don't even care. That's how much an impact the three-point shot has and it's evidenced by how everybody plays."

"I hate it, but I always have," Popovich said even as he's adjusted over the years. "I've hated the three for 20 years. That's why I make a joke all the time (and say) if we're going to make it a different game, let's have a four-point play. Because if everybody likes the three, they'll really like the four. People will jump out of their seats if you have a five-point play. It will be great. There's no basketball anymore, there's no beauty in it. It's pretty boring. But it is what it is and you need to work with it."
The irony in this is that San Antonio's approach this season kind of mirrors its coach's philosophy towards shots from deep. The Spurs are tied for second in the league in three-point shooting percentage, connecting on 38.5 percent of their attempts per game. However, the 24.6 triples they attempt on a nightly basis are the second-lowest mark in the league.
Popovich is the best coach of his era, so he knows that shooting threes is necessary to succeed in the NBA in 2018. However, that does not mean he has to like it, and as long as he's roaming the sideline, it's safe to assume that Popovich will view threes as nothing more than a necessary evil.