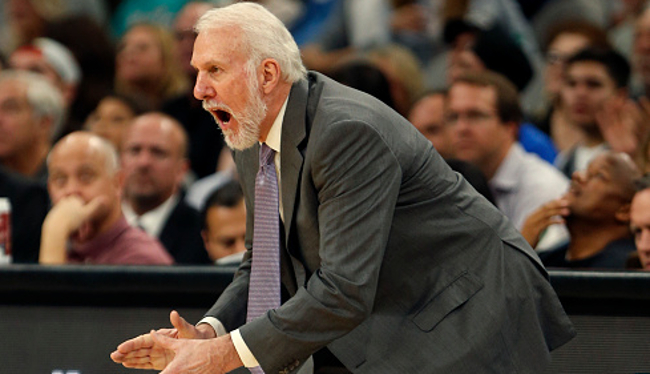 Gregg Popovich has never been one to hold his tongue, but he's been particularly irascible lately.
A few weeks ago, Pop had a spectacular meltdown on the whole officiating crew of the Spurs' game against the Thunder, wherein he called all three of them "f*cking blind," and more recently, he earned himself a rejection for telling a ref to "kiss my ass."
But technical fouls and ejections might not be enough to satiate Pop's righteous fury. With his latest comments about resting LaMarcus Aldridge in a marquee match-up against the Thunder on Sunday night, Pop pointed to a rather grueling stretch of the schedule that has his team playing five games in the next seven nights. He called the stretch "ridiculous" in explaining why, despite the new rest rules, he was sitting his stars.
With Kawhi Leonard still sidelined, won't field any All-Stars against OKC's Big 3 of Russell Westbrook, Paul George, and Carmelo Anthony in a nationally-televised showdown between prospective Western Conference powerhouses. It's the type of act that's earned Pop a hefty fine from the league in the past, and his defiant tone suggests he isn't worried about any possible repercussions in the least.
The good news for the Spurs is that Leonard is reportedly "very close" to returning to action. San Antonio has had no problems staying afloat in his absence, as is standard operating procedure for the Spurs, but they'll need him back in full capacity soon if they're going to make a run at the Finals next spring.