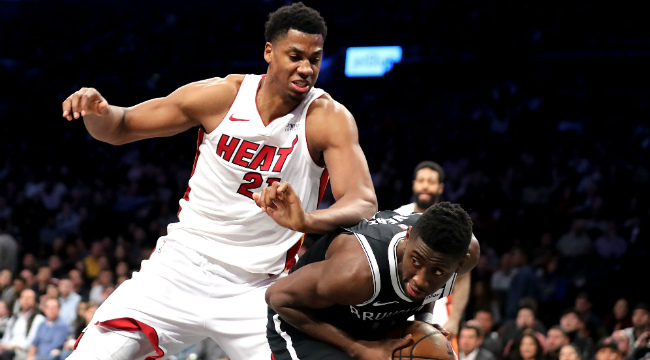 The Miami Heat fell at home to the Brooklyn Nets on Saturday night in overtime, 110-109. It wasn't a loss that will cost them a spot in the postseason or anything — the Heat are sitting in eighth and are 4.5 games up on the ninth-seeded Detroit Pistons — but after the game, tensions were high in the locker room.
The issues centered around Miami big man Hassan Whiteside, who went for 14 points and six rebounds in 20 minutes on Saturday. Whiteside is averaging a little under 26 minutes per game this year, the lowest mark he's had since his first year in Miami.
In his eyes, this is a problem, especially when he comes out late in games when opponents go small. As Whiteside said after the game, he thinks this is "bullsh*t," and mentioned that he thinks that other teams could use a center with his skill set.

Per Barry Jackson of the Miami Herald, Whiteside went on to say that this is "maybe" something that could impact his future with the Heat. Whiteside also said "The minutes have been like that all year. It's really frustrating. It's been frustrating. It's tough. I don't know, man. It's crazy. I don't understand it."
Whiteside has been banged up at points this year, which has led to him playing in 48 games so far. In addition to his reduced minutes, his points, rebounds, and blocks per game are the lowest that they've been since his first year. However, if you look at the numbers, getting Whiteside off the floor isn't really a bad idea.

This doesn't figure to get much better for Whiteside as the Heat head into the playoffs, as both of Miami's possible opponents, the Raptors and Celtics, have the ability to deploy small-ball lineups with Boston, in particular, being something of a nightmare matchup with the versatile Al Horford at the five.
In the event that this leads to a trade request, Whiteside is set to make more than $25 million next season. He has a player option worth $27 million during the 2019-20 campaign and would be a free agent in the summer of 2020 should he opt in.