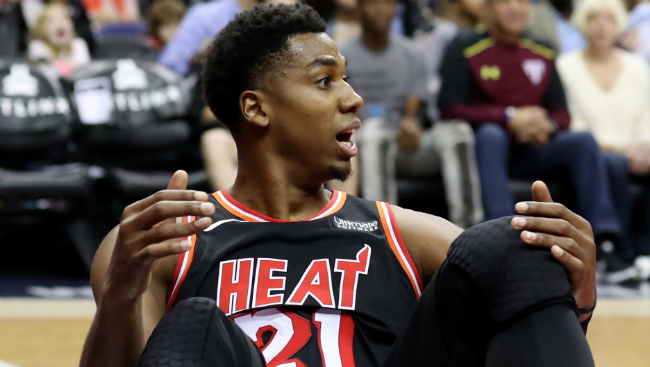 Hassan Whiteside hasn't been in the best of moods lately. Towards the end of the regular season, Whiteside called out Erik Spoelstra's late game rotations which oftentimes saw the center parked on the bench. It also hasn't helped that his play ever since the Miami Heat's series against the Philadelphia 76ers tipped off hasn't quite been up to par, either.
The Sixers boast a 2-1 lead in the series after picking up a win in Miami on Thursday night. Whiteside played 13 minutes, scoring five points and pulling down two rebounds during his shift. But the big man wasn't happy with his time on the floor, and after the game, he decided to break down how Spoelstra reduced his role in the offense.
According to Barry Jackson of the Miami Herald, Whiteside told the press after the game that Spoelstra wants him to basically set screens and get out of the way. Despite this, he stressed that he needs to trust his coach.

"I feel like our offense is a lot different," Whiteside said. "I'm not as involved in as many dribble handoffs as I was and postups as I was in the regular season. That's what coach wants. Coach wants me to just be in the corner and set picks. That's what he wants. I've just got to trust it."
This doesn't seem like as much of a direct criticism of Spoelstra as much as Whiteside is trying to come to grips with his reduced role on one end of the floor. He's not a shooter, and his best offensive games generally come when he's throwing down lobs or cleaning up messes at the rim. With how Miami likes to share the ball around and shoot threes, having a player like Whiteside in games does present some challenges, especially when the Sixers have a big man he can't really bully in Joel Embiid.
The Heat really could use Whiteside to take his game to another if they are going to win the series, but it seems like Whiteside believes the only way that will happen is if Miami changes the way it plays on offense.
(Via Miami Herald)