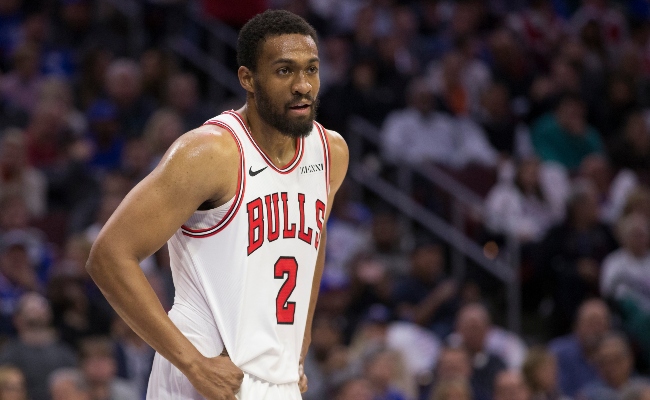 Things in Chicago get stranger by the day.
It's been a tumultuous transition from former head coach Fred Hoiburg, who was fired after the Chicago Bulls got off to a 5-19 start to the season, to interim head coach Jim Boylen. The team lost by 56 points to the Boston Celtics, a franchise record. Then the players almost decided to boycott a practice due to Boylen's penchant for things like running suicides, push-ups and a lack of days off. And in the latest bit of Bulls drama, Boylen has decided to yank the team's prize free agent acquisition from Chicago's regular rotation.
Jabari Parker, who signed a two-year, $40 million deal over the summer to play for his hometown team, played just four minutes in a loss to the Orlando Magic on Thursday night, a game that was played in Mexico City. Afterward, sources told ESPN that there isn't going to be much room for Parker in the rotation moving forward. As one might expect, Parker was taken off guard by the move.

"It is a surprise because I did everything I could in the time I was given," Parker said on Friday according to the Chicago Tribune. "But it is what it is. You can't pout. You just got to keep moving."
Parker told the Chicago Tribune that he wasn't given an any explanation other than it's what Boylen had decided to do, but he doesn't expect the lack of playing time to continue moving forward, despite reports to the contrary.
""I'm not expecting it to be (permanent)," Parker said. "Everybody is telling me the truth and that's just to stay ready. They're not telling me things I want to hear. They're not pointing fingers. And personally, I know I've done my job to embrace Jim as the head coach. I've been nothing but welcoming of him. And that's what I'm going to continue to do."
So everything is fine in Chicago, where the Bulls are 6-23, their head coach is running practice like it's the 1950s and the man they're paying $20 million a year to will be glued to the bench moving forward. Sure, this is absolutely tenable.