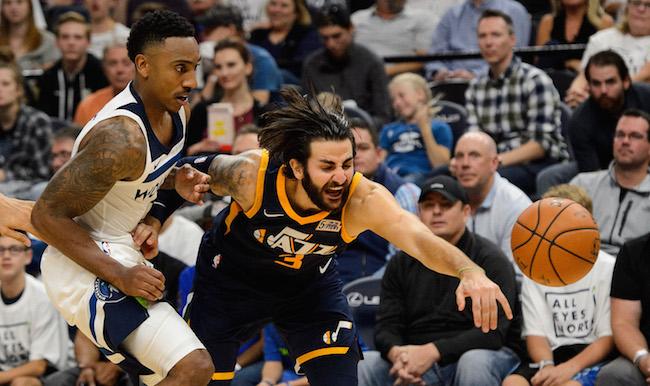 The Timberwolves dropped their second straight game on Friday night in Utah to fall to 38-28 on the season and into a tie with the Spurs, Blazers and Thunder in winning percentage. With Jimmy Butler out, Minnesota has to try and find its way without its top player and veteran leader, and in back-to-back road games against playoff caliber teams they've not quite been able to do so.
There appears to be some frustration growing in Minnesota based off of the actions of the Wolves on Friday night, with Karl-Anthony Towns getting tossed in the first half for arguing a call and then Jeff Teague earning himself an early exit in far more dramatic fashion in the fourth quarter.
Teague decided to shoulder check Ricky Rubio, the man Teague replaced as the starting point guard in Minnesota, in what can best be described as a great tackle and a very bad basketball play. Rubio was sent skidding into the Wolves bench, and unsurprisingly, it led to quite the skirmish between the two teams.

Jae Crowder was quick to confront Teague, who was assessed a flagrant two and ejected for the foul, and Crowder also got into it a bit with Tom Thibodeau. Ultimately, no punches were thrown, and the situation was calmed down, but it's pretty clear that some frustrations boiled over for Teague on the play.
Jazz fans, meanwhile, took the opportunity to mock Thibs.