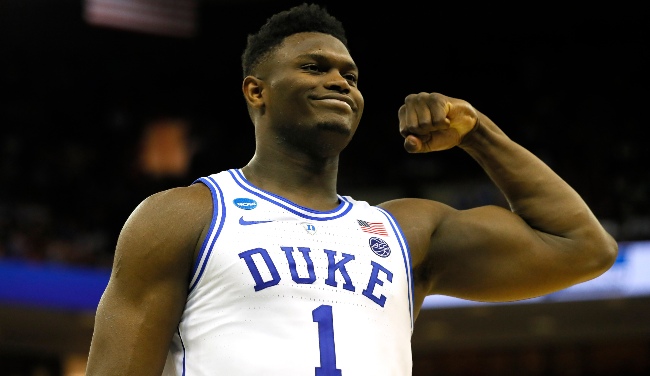 The LA Clippers don't have a first-round draft pick this season, but that doesn't mean that Jerry West doesn't have a strong opinion about who would be atop his big board. The famed talent evaluator and current executive for the Clippers spoke about his fondness for Zion Williamson today on The Dan Patrick Show.
"I think it depends on the team, but I don't know how you could pass Zion Williamson, I really don't," West said when asked who should be the number one pick. "It would be like passing Michael Jordan in the draft."
Here's where we insert the obvious caveat that two teams passed on Jordan in the 1984 NBA Draft, and it is highly unlikely that even one team will risk passing on the Duke superstar who was named the National Player of the Year in his lone collegiate season.
Other than Jordan, West refrained from comparing Williamson's game to that of any previous NBA stars, but he gushed about Williamson's pro potential.
"I've never seen a body, that quick, react the way it does. He has got incredible balance," West said. "Everyone now will be on the edge of their seats to watch him play, to see what he's going to do next…. His game is going to work very well in today's modern NBA game."
Perhaps no one's opinion is more respected around the league than West, who has been a part of the NBA since he was drafted as a player in 1960. He was integral in the Lakers acquiring Kobe Bryant in 1996 and famously refused to part with Klay Thompson as part of a potential Kevin Love trade back in 2015.
But it doesn't take a basketball genius to realize how special Zion Williamson can be as an NBA player. The fact that The Logo recognizes his greatness is just another feather in Williamson's cap.
Clip courtesy of AT&T Audience Network.