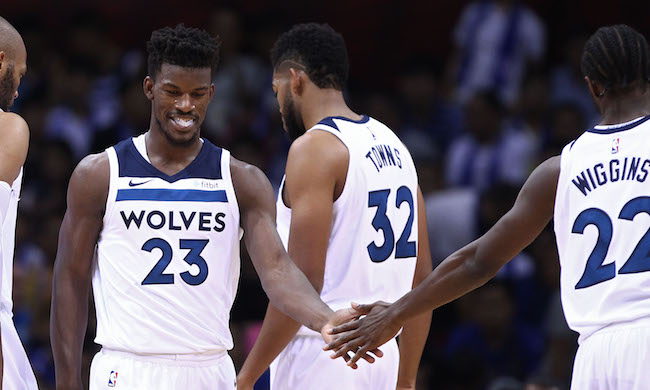 After months of speculation about Jimmy Butler being frustrated with the Timberwolves coming into the final year of his contract, the star made an official trade request on Tuesday as he met with Tom Thibodeau in Los Angeles.
While Jon Krawczynski notes the request has to do with "contractual matters" and "very little" to do with Butler's reported frustrations with Karl-Anthony Towns and Andrew Wiggins, there's been enough smoke over the past year regarding tension between the young Wolves and Butler that it's hard to ignore that factor. Add in Butler butting heads with the young players on the Bulls two years ago, resulting in some very public locker room spats, and it's hard not to assume it played some role.
We likely won't know how Towns or Wiggins actually feel about Butler for a long time, because they'll say the right things when asked about him or, at most, no comment their way through the questions. However, Wiggins' brother, Nick, posted to Twitter almost immediately after the trade request was announced with a one word response that tells you everything you need to know about how he feels about Butler's presence on the Wolves (the tweet was deleted after about 30 minutes of being up, but the Internet always keeps receipts).


Now, this obviously doesn't speak directly for Andrew, but it's hard not to see his brother saying "Hallelujah" about Butler's trade and not think, at the least, Andrew likely won't be too broken up about this.
Butler is an intense guy and hasn't been shy about noting how much he expects from his young teammates, particularly with regards to effort on the defensive end. There have been plenty of reports of tension between Butler and Towns and Wiggins because of Butler not thinking they're giving it their all on a nightly basis on both ends of the floor. Whether that was near the top of the list of reasons for this trade request or not, Nick Wiggins' reaction certainly adds fuel to the fire that the division there was beyond repair.