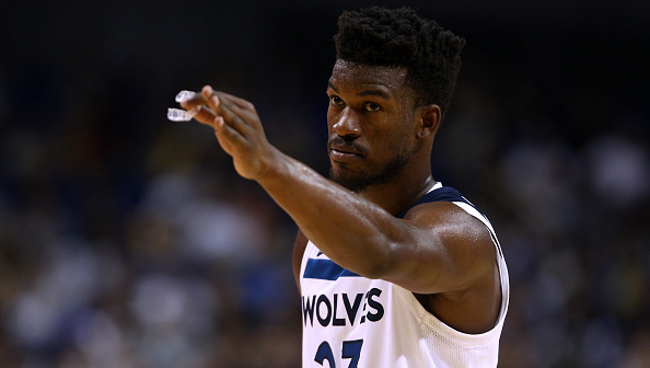 Things didn't exactly come together in Los Angeles this summer the way it was envisioned. Yes, landing LeBron James was a dream come true, but the Lakers were unable to assemble a three-headed monster that included Kawhi Leonard and Paul George to topple the Golden State Warriors next spring.
As both of the latter options quickly fell through, the front office had to resort stop-gap measures while they put together a more viable long-term plan. That plan is still very much under construction and features a rotating cast of stars who may or may not become available between now and next summer.
That list almost certainly still features Kawhi, who will be an unrestricted free agent. But perhaps there are a few others, including Jimmy Butler, who might be getting ready to move on from his current situation and ply his wares someplace else.
Via Eric Pincus of Bleacher Report:
Outside of Leonard, Cousins and Butler may be the most likely to switch teams. Per a source close to Butler, he's open to the idea of moving on from the Timberwolves to play alongside James in Los Angeles.
Butler wisely turned down a contract extension with the Timberwolves this summer, partly because his earning potential will increase dramatically next summer. Beyond this, there are reportedly some behind-the-scenes issues with the Wolves' young stars, namely Karl-Anthony Towns and Andrew Wiggins.
The point is that, despite striking out on their other two major targets this summer, the Lakers aren't being complacent. Magic Johnson has a lot of balls in the air, and the new-look Lakers are still very much in the process of becoming whoever it is they're going to become.
(Via Bleacher Report)