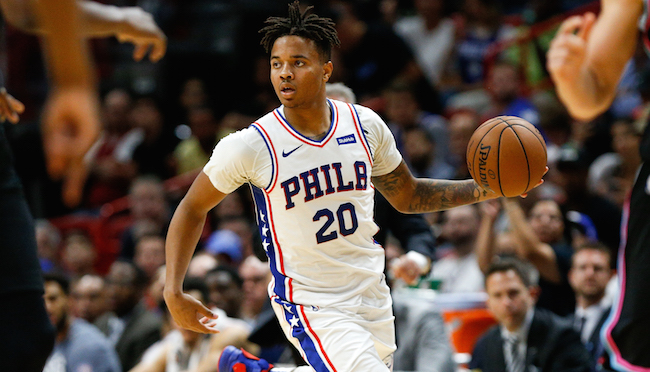 Jimmy Butler was officially introduced as a member of the 76ers on Tuesday morning in Philadelphia at a press conference with Elton Brand, owner Josh Harris, and Justin Patton.
Unsurprisingly, Butler got the bulk of the questions and much of it was standard introductory press conference fare. He was asked how he thinks he fits with Joel Embiid and Ben Simmons — shocker, he thinks it'll go great. He was asked about how he thinks he is as a teammate — again, stunningly, he thinks he's a great teammate. He was asked about his desire to win a championship — he wants to win one really bad, folks.
For the most part, there weren't too many incredible revelations from Butler, which is to be expected in this setting. The most interesting question and answer, at least to me, were about Markelle Fultz and what Butler thought of the second year guard from afar and his well-known struggles with his shot.

"He's a talented young player," Butler says. "I think that, from what I can tell, a lot of things are mental. In this league, I think 90 percent of it is mental. If you think you can do something you really can. I know how hard he works because I'm in L.A. and he comes by there and trains. I know some of the people that know him and they tell me how great he wants to be. As long as he's going hard and giving it his all every day, the guy has my respect. I just want him to go out there, play hard, be who he is, stick to his strengths, and I just know he's going to thrive and be successful."
Given Butler's clashes with Karl-Anthony Towns and Andrew Wiggins in Minnesota there were some that worried how he would be with Fultz, since everyone in the organization seems to need to be patient with the former top pick as he works through his issues. However, he seems to hold Fultz in high regard as a worker and, for Butler, that's the most important thing. It's part of why he was so frustrated with Wiggins and Towns.
It wasn't like they weren't putting up numbers and playing well at times, Butler just felt they weren't maximizing their talent by not putting in enough effort, and that frustrates him more than anything. That's not to say he can't grow frustrated with Fultz or any of the other young Sixers players, but what we know about Butler is that if the effort is there, he'll at least be satisfied at a base level with someone. No one has questioned Fultz's work ethic, it's simply a question of where he is, where he can get to in the near future, and whether that aligns with the needs of the Sixers as they try to compete for a championship.
Fultz might fit better on a team with a timeline that's built to be patient with young players — similar to where Philadelphia was three years ago — simply because the one thing that seems certain for Fultz is he needs time and reps to try and work through things. With the Sixers and Butler, there will be fewer reps for him and, like last year, once the postseason comes around and the rotation tightens he might find himself on the outside looking in again.
Still, it's good to hear this approach from Butler and hopefully his fire and mental toughness can provide some kind of positive impact on Fultz rather than exacerbate the issues for the young guard.