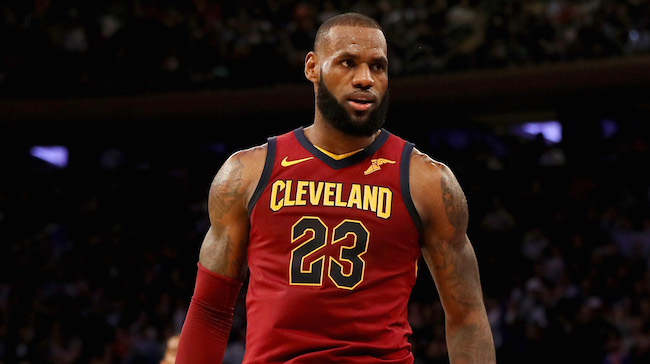 LeBron James and the Cavs will take on Ben Simmons, Joel Embiid and the Philadelphia 76ers on Monday night in a battle between potential Eastern Conference playoff foes, and the possible future of the conference against its past (and possibly present).
The matchup offers far more storylines than a typical midseason matchup, as the Cavs are scorching hot of late, having won seven straight to jump back into the top half of the East and the Sixers have outperformed expectations at 11-7 despite facing one of the NBA's toughest early season schedules. While Embiid normally takes the headlines for Sixers games, the matchup between LeBron (thrust into the point guard role by injuries) and Simmons is the top topic of conversation.
Simmons has impressed as a rookie, averaging 18.5 points, 9.1 rebounds, and 7.7 assists per game, and his play has long drawn comparisons to LeBron as a big guy with point guard capabilities and incredible vision. While Dwyane Wade sees some of the similarities between the two, others, including LeBron, are quicker to pump the brakes on such comparisons.
Sixers' veteran shooting guard J.J. Redick was asked about those comparisons and what makes LeBron so great, and he took the opportunity to remind everyone just how incredible LeBron James is as a basketball genius and talent. Redick even went so far as to say James is the "greatest player ever" in his eyes, while also noting there was validity to the comparisons.
https://www.youtube.com/watch?v=MaCmDaU7EWc
"The size and the ability to handle and pass. They're both very dangerous in transition," Redick said. "There's really very few players, I'm trying to think if there's anybody besides LeBron, that's had that combination of speed and size and athleticism and strength. Look, LeBron is, I think, the greatest player to every play. It's a tough comparison to make for someone who's played, 17 games. So, LeBron is obviously in a different category, but I think it's a valid comparison from where LeBron was early in his career to where Ben is now."

Any comparisons to LeBron James have to come with this kind of disclaimer. Simmons has some traits that are LeBron-like and the way he stuffs the stat sheet as a point guard of his size is certainly reminiscent of James. However, it's also important to, as James noted, let Ben be Ben and discuss (and celebrate) his accomplishments within the appropriate context. It's unfair to compare anyone to LeBron and we have to remember how absurd it is that James, who was always compared to Michael Jordan, has managed to somehow live up to those insane expectations.
Whether you ride with Redick on the "LeBron is the GOAT" train, or if you think this is a Duke guy taking a little shot at Jordan, it's truly incredible there's even a discussion to be had. James came into the NBA with the expectation he would be the best ever and he might have done it. To do the same to Simmons would be unfair. So, it's fine to point out Simmons has LeBron-like talents in certain areas, provided you don't try to hold him to the exact same standard as LeBron.