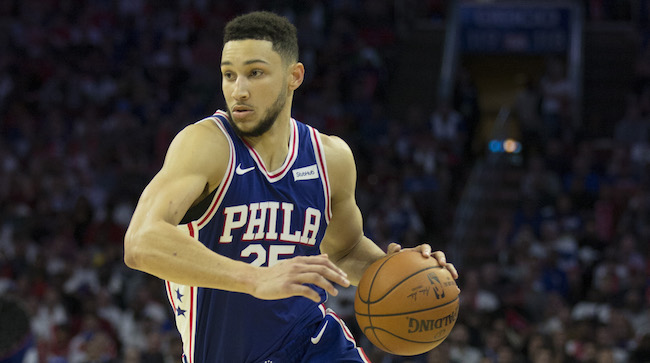 Pre-draft player comparisons are often hilariously bad. In the current NBA, a tall, lanky kid with a jumper inevitably draws a comparison to Kevin Durant, despite the fact Durant is a transcendent, generational basketball player. The exception to this comes when there's a foreign big man with a jumper, who of course is the next Dirk Nowitzki.
A big guy with handles and passing ability, well that, of course, is LeBron James. It's understandable why we want to jump to comparisons to stars. For one, no one wants to compare a potential top pick to a rotation player, because that feels like a slight even if it's not meant as one. It's also the easiest (and laziest) way to get a non-college hoops fan to understand the general talents of a player. The problem with those comparisons is they so often heap unreasonable and unattainable expectations onto a young player.
Coming out of LSU, Ben Simmons got the LeBron comparisons because of his point guard abilities at 6'9 and his effectiveness as a young player without a jumper. After sitting out his first season with a foot injury, the Sixers' young star is flashing those abilities early in his rookie season and the LeBron comparisons, while obviously not perfect, make some amount of sense.

Simmons' nightly stat lines are very LeBron-like in the way he's stuffing the stat sheet with points (18.5), rebounds (9.1) and assists (7.7) per game. Furthering the comparison, James and Simmons workout together some in the offseason, as they share an agent in Rich Paul.
But prior to Monday's matchup between the Cavaliers and the Sixers, James told reporters that he isn't interested in comparisons and insists Simmons is his own player, via ESPN's Dave McMenamin.
"That's for you guys (in the media)," James said after shootaround Monday. "You guys do that comparison stuff. I think Ben is his own makeup of speed, power, quickness, competitive basketball and being able have a feel for the game. You know, Ben is Ben. And I am who I am. And so on and so on. So you guys kind of do that comparison stuff."
While James shrugs off comparisons, which is probably for the best for Simmons, his closest friend and teammate Dwyane Wade can't help but see some of the similarities between the two. Wade was asked on Sunday about the young phenom and if he sees some of James in Simmons, per Cleveland.com's Joe Vardon.
"Yeah, look at the stat line," he said. "A guy that does multiple things on the floor. A big guard, exciting. So definitely (see similarities)."
Wade doled out compliments to Simmons for coming out hot to start his rookie season after spending a year off the court, and noted the most impressive thing about Simmons is how he stays within himself and is still able to have such a tremendous impact.
"No one knew exactly how he was going to perform, we just knew he had talent," Dwyane Wade said following Cavaliers practice Sunday. "He said he felt like he could play better, but if you look at his numbers he's averaging almost 19 a game with nine rebounds and seven assists. That's incredible for a guy who hasn't played basketball in over a year.

"He's definitely figured out what works for him and he's sticking to it. He's not getting into the 3-ball game that everybody's getting into, he's playing his game. He's definitely a matchup problem and a challenge for most teams."
Simmons has managed to live up to lofty expectations and really outperform what most people expected in his first season. LeBron brushing off comparisons is a service to Simmons, because it's nearly impossible to live up to comparisons to James.
LeBron wants Simmons to be judged on his own merits without constantly be compared to James' unreal production throughout his career. Simmons can be a great player and also not ever come close to being LeBron James, but the fact that Wade can't help but see some of the similarities bodes well for the young star.