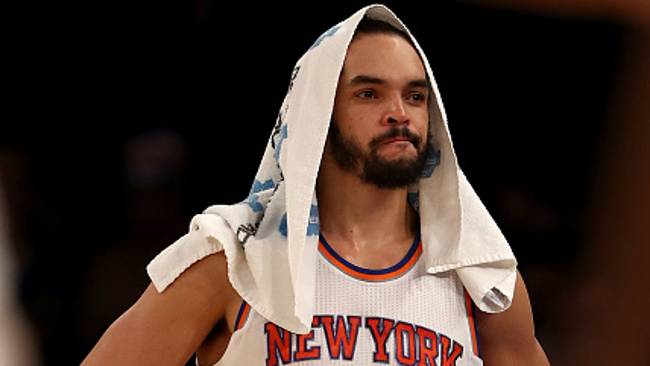 Phil Jackson became notorious during his Knicks' tenure for his front-office ineptitude. He alienated his star player. He stubbornly forced the team to implement an arcane offensive scheme. He threatened to sabotage the one thing he actually got right (Kristaps Porzingis), purely out of spite. And he gobbled up precious cap space on oft-injured and/or washed up players by signing them to massive contracts.
Joakim Noah was a benefactor of Phil's imprudent generosity, along with Derrick Rose, back in the summer of 2016 when the Knicks signed him to a baffling four-year, $72 million deal. Noah averaged just five points and 8.7 rebounds last season and has played since last February, partially due to a knee surgery that ended his season and partially because of a 20-game suspension he earned for testing positive to a banned substance.
Noah has finished serving his suspension, but he's yet to appear in game for the Knicks this season, and it seems highly unlikely he's in the team's long or even short-term plans. Noah himself acknowledged recently that he faces a tough road ahead and that he'll likely never return to the form that made him a former All-Star and Defensive Player of the Year.
Via Marc Berman of The New York Post:
When asked if he forsees a role, Noah said, "What can I bring? I don't know."

When asked if he still feels he can be close to the player he was in his 2013-14 campaign, Noah said: "Probably not. Probably not. You know. I can help. I feel like I could help this team and that's just my reality. But I just want to just be the best that I can be.

"It's not about trying to be what I was three, four years ago, because it's not the reality."
It's rare to hear a player be this candid about his plight. The Knicks are in the midst of a youth movement centered on Porzingis, and Noah's enormous contract complicates matters even further.
A buyout might be his best option if he wants to continue his career elsewhere, but there's been no movement on that front. For now, Noah will remain in limbo in New York while his team and the league move continue to move forward without him.