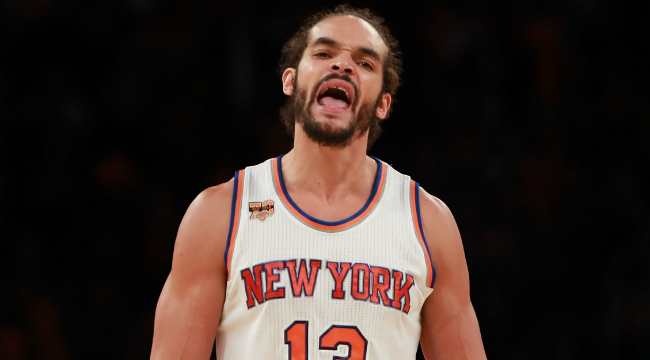 The New York Knicks will be getting veteran center Joakim Noah back from his 20-game suspension for taking a banned substance next Monday when they face the Cleveland Cavaliers. How big of an impact Noah's return will have for the Knicks on the court remains to be seen, but his impending return has created an interesting conundrum for the front office.
New York presently has 15 guaranteed contracts on the roster, not including Noah, which means they need to find a way to get rid of one by Monday. The quickest fix for that problem is to waive someone on a 1-year minimum deal, but the Knicks would prefer not to pay out that guaranteed salary for the rest of the year.
So, the only other option is to trade someone for a draft pick (or two someones for one player in return). According to ESPN's Ian Begley, the player the Knicks have chosen as the one they'd like to ship out of New York in exchange for a second round pick (or something of the sort) to clear that roster spot is forward Mindaugas Kuzminskas.
Kuzminskas is making just over $3 million this season and will be a restricted free agent next summer (with a $3.7 million qualifying offer), but he has fallen completely out of the Knicks rotation this season, having not appeared in a game this season. Begley reports the Knicks have begun "gauging interest" from teams around the league on Kuzminskas in an effort to get a deal done soon and avoid having to waive a player (likely Ramon Sessions) to create space for Noah.
Last year, Kuzminskas averaged 6.3 points and 1.9 rebounds per game with a 42.8/32.1/80.8 shooting split in 14.9 minutes per game over 68 appearances. However, this season he's yet to touch the floor and, as Begley notes, it's unclear what the market is for Kuzminskas.
The Knicks would prefer to deal Noah and his massive contract that has three more years remaining on it, but efforts in moving the veteran center have failed to find anything suitable in return, which is understandable considering his contract and limitations. The Knicks are likely stuck with Noah for the remainder of the deal (barring him retiring), which is an unfortunate leftover from the Phil Jackson era, but one they'll have to maneuver around until he's gone. For now, that means trying to flip Kuzminskas for a non-player or having to eat salary on Sessions.