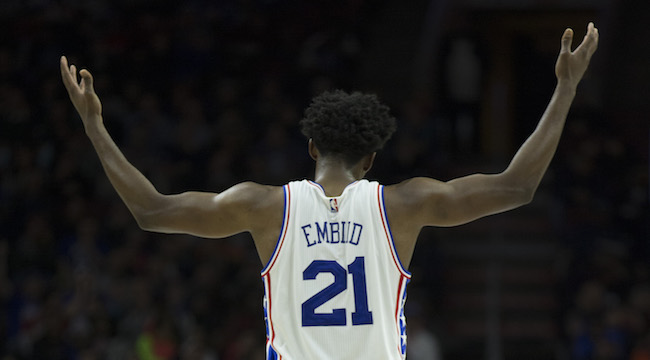 Sixers pandemonium reached a fever pitch in Philadelphia on Wednesday night as Joel Embiid led the way to another Sixers win, making Philly 6-2 in January after beating the Raptors at home, 94-89.
Embiid was a ridiculous +20 for the Sixers in the five-point win as he continues to amaze and put up insane numbers as a rookie, while also leading the Sixers to more wins than they had all of last season by early January. Fueled by a late night binge of Shirley Temples and Future, Embiid posted 26 points on 13 shots, nine rebounds and two blocks on the night, including a game-sealing block in the final minute on Kyle Lowry.
Embiid's play has not only galvanized the team to a hot streak in January, but he's captured the hearts and minds of the Philly faithful. The Sixers fans serenaded their young star with "Trust The Process" chants at multiple points while he was at the free throw line, including his foul shots late in the fourth quarter, and Embiid loved it, asking for more on both occasions.
Embiid-mania is in full swing now as he's posted 20 points and at least one block for the 10th consecutive game, but he's done so with the Sixers going 7-3 in the last 10 games. Wednesday night's win over the Raptors, currently the No. 2 team in the Eastern Conference, was the latest warning to the NBA that Embiid and the Sixers are going to be a problem.