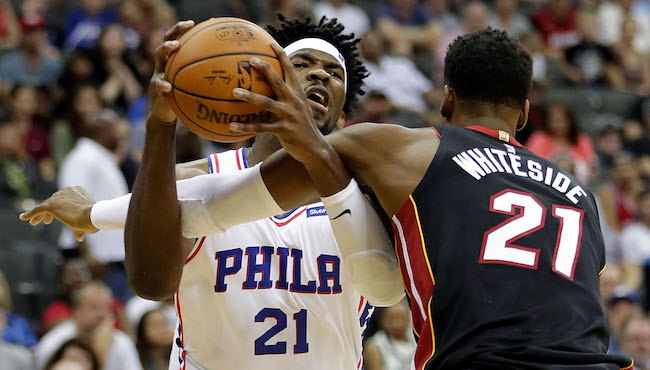 The Philadelphia 76ers and Miami Heat squared off in what turned out to be a not-so-competitive preseason game on Friday evening. While the Sixers ran away with a 24-point win, all eyes were on the matchup at the center position between Philly's Joel Embiid and Miami's Hassan Whiteside.
Just days after Embiid lit the NBA world on fire with a 22-point performance in 15 (!) minutes against the Nets, the talented big man scuffled to a 1-for-7 performance in limited time against the Heat. However, Embiid did have success in drawing fouls against Whiteside and that is where things get (very) interesting.

As you can see, Embiid was taunting Whiteside by telling the Heat bench to remove him from the game and, well, Whiteside managed to commit four fouls in just 11 minutes of court time in the game. Following the contest, Whiteside was tagged in a tweet directed at Embiid's inefficient showing and he quickly responded with an eye toward the media.
Embiid was having none of it, though, reminding Whiteside of his foul issues and using a very interesting hashtag.
Whiteside and Embiid clearly have some level of beef happening but Miami's big man isn't terribly pleased with the media either, directing his ire at Bleacher Report for simply relaying the video.

Finally, Embiid fired in Whiteside's direction again and, well, he didn't hold back in the slightest.
Embiid didn't stop there, and poor Kevin Durant caught a stray from the Sixers' center who was clearly in a mood.

Embiid famously has no filter whatsoever and that is one of the most endearing qualities about the beloved center. This has all the makings of a back and forth that may continue and we should all grab some popcorn on this one. For reference, the Heat and Sixers meet for the first time in the regular season on February 2.
Whiteside came back at Embiid by referencing the Sixers' star's health issues and saying he hopes he'll be on the court by the time they meet again.
This appears to be a feud that won't be stopping any time soon, so we'll keep updating this with all the latest as they go after each other on Twitter.

Update: Embiid has returned fire with some haymakers on Instagram and bringing back old tweets from the last time he and Whiteside went at it over social media. Embiid set his Instagram location to "Whiteside" and said in the caption, "My location is EXTREMELY ASS."

Utah Jazz center Rudy Gobert, who had a social media spat of sorts with Whiteside this summer during Gordon Hayward's free agency, seemed to enjoy one of Embiid's jabs at the Heat center.
Andre Iguodala is likewise enjoying Embiid's late-night Twitter performance.