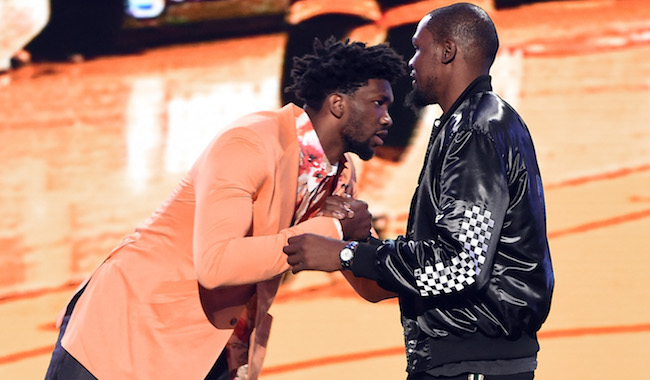 Golden State Warriors star and reigning NBA Finals MVP Kevin Durant has taken a social media beating to begin this week, and it centers on the apparent possession and presence of alternate Twitter and Instagram accounts. Durant has always been known for being active on social media, but on Monday, things were taking to a completely different level.
In short, Reddit sleuths have seemingly unearthed Durant arguing with fans on both platforms under anonymous circumstances and, while that certainly isn't a crime, it hasn't stopped the universe from getting some jokes off at his expense.
Now, we can add Philadelphia 76ers center Joel Embiid to the list of people firing off silly takes about Durant. Embiid, who is never one to shy away from commenting on silly things in the world of basketball, took to Twitter to get a laugh at Durant's expense.

Embiid's mentioning "@QuireSultan" is a direct reference to the anonymous Instagram account now tied to Durant, and it comes with the hottest of takes regarding the always-entertaining center when compared to Michael Jordan. More than anything, this plays beautifully with Embiid's outgoing social media presence and also ensures that he remains current when it comes to the "it" thing taking place in the NBA world right now.
As for Durant, it seems plausible (or even likely) that he will have to address these rumblings at some point in the near future. For now, it's just Joel Embiid poking fun at him, further proving that the NBA is great even in mid-September.