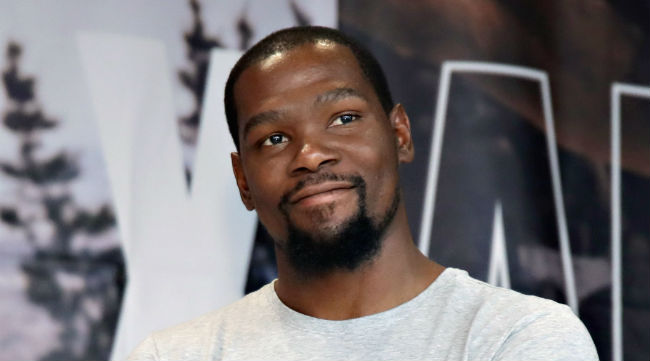 Kevin Durant famously returned to Instagram this summer after a more than two year absence. Durant returned to Instagram when his hometown of Seat Pleasant, Maryland, celebrated his title in August. He's mentioned the return in interviews and might even be using its powers to find love.
But did he ever truly leave? After eagle-eyed Twitter users noticed Durant — or someone with access to Durant's account — arguing in the third person about Durant's decision to leave Oklahoma City for Golden State two summers ago, the internet sleuths started investigating Durant's online footprint.
What they found appears to be a secret Instagram account that's also argued in Durant's favor in the past. Tim Cato tweeted on Monday about an account NBA Reddit found called "quiresultan" that the sleuths fingered as connected to Durant in some way.
https://twitter.com/tim_cato/status/909786764017053697
Cato did some sleuthing and discovered that "quiresultan" does have a connection to Durant's hometown.
That's circumstantial evidence at best, of course, and it could just be a superfan from his hometown that loves Durant. But Cato does point out that the account has defended Durant from haters in the past.
https://twitter.com/tim_cato/status/909788655727841282
To add to the web of mystery, the account changed its username to something more innocuous once it was apparently discovered.
Much like the slip up with Durant's Twitter account, there's really no way of knowing what's going on here for sure. But I definitely want to change my description on social media to "no live ball turnovers" like "quiresultan" once had. It's apparently available now.