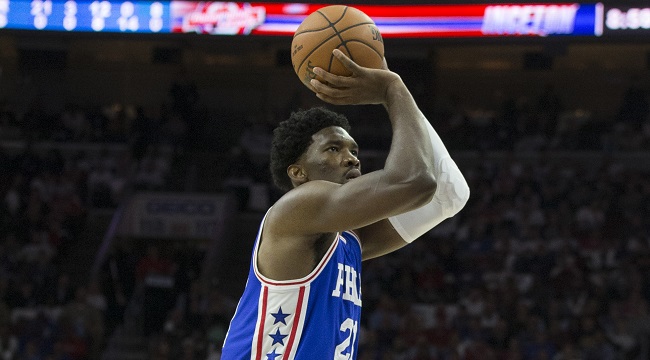 On a per-minute basis, Joel Embiid's rookie season stands alongside Tim Duncan, LeBron James, and others as the best in recent memory. However, the talented Philadelphia 76ers big man appeared in only 31 games before succumbing to an early injury shutdown and, even before that, Embiid was not taking on a full workload as an NBA starter due to team restrictions.
As a result, there is a debate raging as to whether the now 23-year-old big man should be the Rookie of the Year over the likes of Milwaukee's Malcolm Brogdon and Philadelphia teammate Dario Saric.
In speaking with Jackie MacMullan of ESPN, Embiid did not hold back in indicating he believes he was the best rookie and, as such, should take home the hardware:
"I mean, no disrespect to other guys. Dario [Saric] is my teammate and my friend, and I love him. And I know Malcolm [Brogdon] from when I was visiting schools. When I made my visit to Virginia, he took me around. They both had great seasons.

I know people are saying about me, 'Oh, he only played 31 games.' But look at what I did in those 31 games — averaging the amount of points I did in just 25 minutes. I'm not sure why people want to punish me for that.

Even going back to the All-Star Game, I didn't get chosen for that, and people were killing me because I didn't play 30 minutes a game. But here's what I don't understand: If I put up those numbers in less time than another guy, what's the difference? Doesn't it mean I did more in less time? Wait until I play as many minutes as those guys, then you will see what I do

But people have their own ideas about how they vote for things."
Embiid's numbers are borderline ridiculous, as he averaged 20.2 points, 7.8 rebounds, and 2.5 blocks per game despite playing only 25.4 minutes. However, the 31-game sample is small enough to the point where Embiid's cumulative value just might fall behind Brogdon and/or Saric. It then becomes a philosophical debate with haste.
On one hand, Embiid is absolutely right in that it isn't his "fault" that the Sixers limited his playing time when he was healthy and available to play. In fact, the former No. 3 overall pick absolutely would have been the choice, despite missing back-to-backs, etc., if not for the season-ending injury and Philadelphia's justifiable caution with his deployment. Beyond, neither Brogdon nor Saric has a traditionally dominant Rookie of the Year case in what is, by all accounts, a down season for first-year players.
On the flip side, Embiid's ROY case would be one-of-a-kind given that he took the floor for only 486 minutes of time. Regardless of how you feel about Embiid's candidacy, everyone agrees that he was a transcendent player when healthy and able to be on the court this season and every voter will feel differently about the available choices. If Joel Embiid were voting, though, he would seemingly have an easy decision and there is nothing wrong with him voicing that opinion, even in favor of himself.