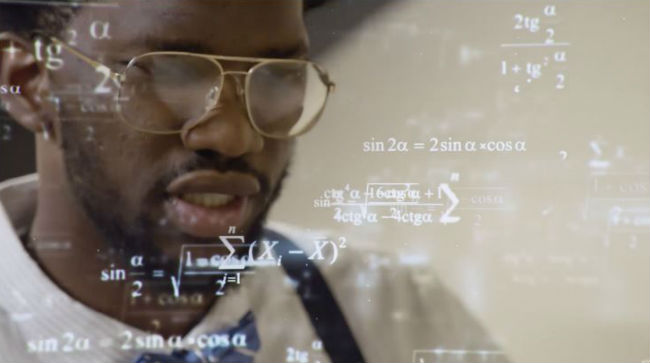 Joel Embiid is the latest athlete to led his comedic skills to The 5th Quarter. The Philadelphia 76ers star is known for his sense of humor, but the Season 3 premiere of Go90's sports comedy series gives him a chance to try his hand at acting, as well.
In the episode that debuted on Thursday, Embiid takes his 7-foot frame off the court and in to the office, working a desk job as 'The Processor' to fulfill a summer internship requirement to get his degree.
"When I left Kansas, I always planned on going back and getting my degree," Embiid says to start the episode. "I figured why not start now?"
Kenny Mayne, who is an executive producer on the show, narrates part of this episode full of sports stars.
"Joel is one of the hardest workers in the game." said a deadpan Julius Erving, who makes an appearance with a confessional-style interview. "There's no doubt that his passion would translate from the court to the cubicle."
Nerlens Noel also pops up in the episode, claiming he also interned at the same company and that he was a reference on Embiid's resume. That company is actually run by a character played by Chappelle's Show alum Donnell Rawlings, who in a previous episode tried to pass off Blake Griffin as a 7-year-old AAU basketball star.

[protected-iframe id="fb1caa00de5479f9df6bdc16fca98136-60970621-76566046″ info="https://www.go90.com/embed/7ItiQ2hOyLr?w=480&h=270″ width="480″ height="270″ frameborder="0″ scrolling="no"]
Rawlings character has the more absurd lines of the episode, but Embiid is the clear star.
"He came in and he just blew everybody away. He's just a natural, so funny," Michael D. Ratner, who directed and created The 5th Quarter, told Uproxx in November. "And it was really his first time acting. I just couldn't believe it because he was awesome."
Between calling the appliances in the break room "ass" and installing his own Shirley Temple dispenser, there are a few nods to Embiid's own sense of humor. He also pines after the only other employee in the office while having a poster of his true beloved, Rihanna, in his cubicle.
Perhaps the best part of the episode, though, is what isn't said. The camera angle reveals an office without a drop ceiling, playing either into the fact that the company is a sham or the entire thing is clearly fake. Maybe both. Embiid's Jim from The Office-like stares into the camera really sell the bit.
"Joel, like De Niro, is your typical method actor," Ratner said. "Once he's in character he can say so much, while really saying nothing at all."
The 5th Quarter tends to have its athletes come back for work in later seasons, so like Blake Griffin we might be seeing Embiid acting again very soon. Just like on the court, he seems to be a natural.