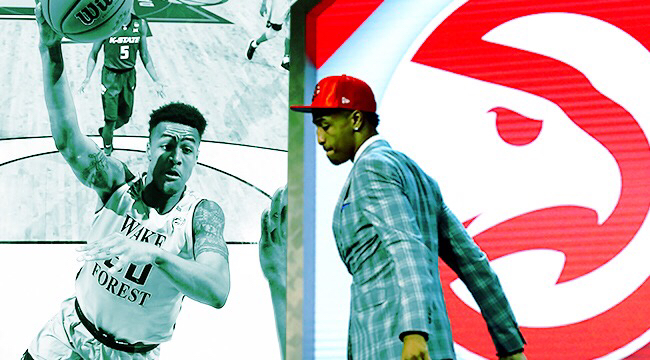 John Collins isn't limited to just a singular post move or specialty on the court. He's a big man who gets up and down like a guard and has the ability to posterize anyone who gets in his way. In other words, good luck with stopping him.
Collins learned to play basketball at an early age on military bases, as his mother and father were both in the armed forces at the time of his birth. He moved along with his parents from base to base, which included locations like Guam and Turkey.
"There was a lot of discipline, a lot of structure to my life," Collins told DIME. "My mom was in the Air Force 20-plus years, my dad was in the Navy 20-plus years, so there was just a lot of structure in my home and life."
Collins grew up on the gated communities of the U.S. military in different countries, which came with all the challenges one would expect from being on the move so often.
"I moved around and really didn't have any friends, didn't really have any solid bases." Collins said.
Collins' parents would split up when he was a child, and he shifted to living with his mother for most of his childhood.
"The situation that my mother and I were in was just really unique," Collins said. "Obviously, her being in the Air Force and having to move around consistently is crazy. But, I can't imagine being a single mom trying to do that. My mom was always really strict, regardless of whether she was in the Air Force or not. Just to come home and have her at home taught me to be so mature at such a young age, that was the biggest thing I think for me."
Collins and his mother settled in Florida, where the two of them would stay through his high school days. This was where Collins would really make a name for himself, winning the 4A Florida Player of the Year honors his senior year.

After committing to Wake Forest, Collins still wasn't even ranked within the top 100 players in the country, but his size was always going to be an asset and his sheer potential was missed by many top programs in the country. Collins wasn't given the throne overnight like many of his contemporaries who applied for the NBA Draft, averaging only 14 minutes per game his freshman year.
Collins chose to stay in school after that first season, and saw a huge uptick in minutes and production in his sophomore year, averaging 19.2 points and 9.8 rebounds in just under 27 minutes per game. He became the ACC's Most Improved Player, towering over opponents and demolishing them in the post. As the year progressed, so did his draft stock for his NBA dream.
Performing well and having unique measurables at the Combine, it was rumored he could go as high as the lottery and as low as the mid-20s in the Draft. Eventually, Collins would be selected by the Atlanta Hawks as the 19th overall pick. Even as part of one of the deepest drafts in recent memory, Collins would come in with a chip on his shoulder after being passed up by a number of teams.
"I love the fans, the organization, and the city, and I'm absolutely thankful to be here but at the same time I want to prove people wrong," Collins said. "I want to show that I should've gone higher [in the draft]."
By all accounts, Collins isn't a throwback big man. He's a dominant center on both ends of the floor, but has the physical tools to run and gun. He's got a knack for playing face-up or with his back to the basket, and he reads the game very well. He's not necessarily a player who will stretch the floor. Not yet, at least.
"I definitely think I can hit the outside shot," Collins said. "Give me some time and I think I'll be able to knock down those shots. It's in my range for sure. In time, I think I'll become a better shooter."
While he may still be working on the shooting the outside shot, Collins certainly has one thing down: dunking. In the NBA Summer League, Collins showcased his incredible athleticism and was one of the must-watch players in Vegas. Averaging almost 16 points on 59.3 percent shooting and 9.2 rebounds, Collins ranked amongst the best in the NBA's premier summer event.

After the game where his poster jam over three opposing defenders went viral, Collins was asked what happened, and his response was, "I haven't seen the replay yet, but I got to use this athleticism sometimes, right?"
Even with those performances and already-iconic dunks, Collins still hasn't topped 7,000 twitter followers. Other big men picked around Collins in the Draft — like Bam Adebayo, Lauri Markkannen, T.J. Leaf, Harry Giles, even Kyle Kuzma — have at least 10,000 more followers than Collins. From Collins' point of view, however, the only thing that matters to him is getting better and winning basketball games.
"I just think my heart [separates me from others]. I play my ass off," Collins said. "I will always work harder than anyone else on the court and I just think that has always allowed me to stay ahead of the curve."
Collins has a lot to prove at the NBA level, but if his early life is any indication, he's going to be one hell of a force to be reckoned with … especially if you're an opposing big man. From growing up on military bases and not having friends, to realizing his dream of playing in the NBA, Collins hasn't wavered in his drive and dedication, and won't stop until he puts you on a poster and proves every team that passed on him made a big mistake.