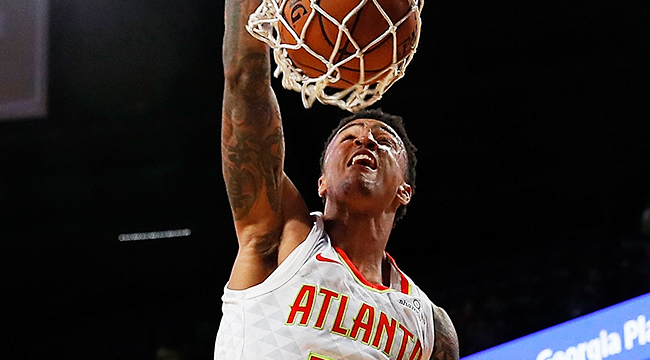 LAS VEGAS — As the No. 19 overall pick in the 2017 NBA Draft, John Collins flew under the radar. Not everyone was sold on the former Wake Forest big man, especially after stint in the ACC that raised red flags about his ability on the defensive end of the floor. Beyond that, Collins landed with an Atlanta Hawks team set to embark on a full-fledged rebuild and, as a result, there wasn't too terribly much interest league-wide in what the rookie big man would be able to do in his first professional season.
However, Collins was both productive and efficient in his debut campaign, appearing in 74 games and posting quality per-minute numbers (15.7 points and 10.9 rebounds per 36 minutes) while seeing his role increase throughout the year. Collins' efficiency (18.3 PER, 62 percent true shooting) stood out from day one but, even on the defensive end of the floor, he was able to use his considerable athletic gifts to paper over some of the lingering question marks from the pre-draft process.
In fact, Collins performed well enough to garner second-team All-Rookie honors for the 2017-18 season and there was a credible argument for him on the first team. As the 2018 Las Vegas Summer League approached, Collins was on Atlanta's roster and many speculated that he would be in for a short stint, particularly given the fact that the Hawks appeared for three games (with Collins playing two) in the Utah Summer League.
Still, Collins lasted long enough in Sin City to make a significant impression on talent evaluators across the league. In two contests, Collins averaged 24 points and 8.5 rebounds per game in just 28.5 minutes a contest. That was enough to force Atlanta's hand in finally shutting him down for the remainder of the summer, but not before Collins made a few statements with his on-court play.

For starters, the 6'10 big man flashed an already burgeoning ability to step out on the floor and knock down shots. Despite small sample size caveats, Collins converted five of his 10 three-point attempts in Las Vegas and, perhaps more importantly, he was able to do so while looking like a confident, effective floor-spacing threat. The Hawks have been candid in professing their desire for Collins to improve his overall floor game and assistant coach Chris Jent (who is also captaining Atlanta's squad in Vegas) saw what they were looking for out of their big man.
"He's got to be able to play on the floor more effectively," Jent says. "Not only shoot it but put it on the floor. He had some times where he drove the ball where he has to be stronger with it and finish. But I think overall he did a great job, obviously shooting the ball it looked good."
Defensively, there is much less to be gleaned from Summer League, simply because of the lack of sophistication from a scheme perspective. Still, Collins boasts a combination of athleticism and length, allowing him to credibly perform at center in today's NBA while also displaying the ability to play at the power forward spot if his perimeter game continues to improve.
From the opening moments in Las Vegas (much less in Utah), it was clear that Collins was beyond overqualified to be on the floor. There were times when his occasionally reckless — in a good way — style of play likely frightened the Hawks brass, particularly when he took a few rough tumbles during the course of play. In the end, however, there was no question that Collins was the best player on a Summer League team that features a top-five pick from the 2018 NBA Draft in Trae Young.
Even further, you can make the case that Collins was the best player to take the floor in Las Vegas. There are other prospects with higher future upside, but Collins, who remains just 20 years old until September, looks the part of an NBA starter at this moment. When that kind of player sees the court in Las Vegas, it becomes obvious that he won't be there for long and Collins will spend the rest of the offseason preparing somewhere other than the Thomas and Mack Center for the rigors of the 82-game grind ahead.