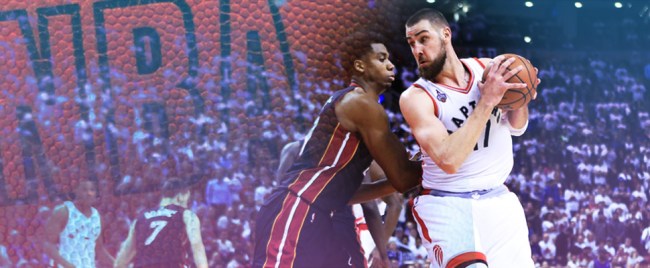 The Toronto Raptors can't score in the playoffs. They scratched and clawed to a round-one win against the Indiana Pacers by virtue of home-court advantage more than anything else, and fared even worse offensively through splitting the first two games of the Conference Semifinals.
Crisis of confidence and a nagging elbow injury have limited Kyle Lowry to 30.8 percent shooting in the postseason. DeMar DeRozan hasn't done much better, chucking his way to 18.6 points per game on 33.7 percent from the field.
The Raptors' 97.3 offensive rating is worst among remaining playoff teams and barely above the Philadelphia 76ers' league-low regular season number. Their ball handlers are getting a measly .74 points out of ball screens – the postseason's worst mark despite the unparalleled frequency with which Toronto runs that basic action. The only time Dwane Casey's team consistently looks like a cogent professional offensive outfit, in fact, is when it's running off turnovers or creating second opportunities from the offensive glass.
What the Raptors have done thus far against the Pacers and Heat, their standing as a potential Conference Finals participant be damned, just isn't working. So why continue defining insanity when a superior route to more efficient offense may exist – and continues to prove itself increasingly viable?
Jack: Hassan Whiteside finished third in Defensive Player of the Year voting this season, but that honor isn't indicative of his real quality as an individual defender. The majority of his highlight-reel blocks come from the weak side or in pick-and-roll play, where he's able to use his surreal combination of length, timing, and vertical explosion to its utmost advantage.
Whiteside's looming presence as a helper is invaluable to the Heat; he scares the hell out of every opposing player brave enough to attempt a shot in the paint. But the towering 7-footer's true defensive impact lags behind that reality because of his vexing inability to contain low-post scorers. That deficiency was obvious in Miami's first round series against Al Jefferson and the Charlotte Hornets, and is becoming equally apparent the more opportunities Toronto gives Jonas Valanciunas to attack Whiteside on the block.
Valanciunas' awesome performance in Game 2 will be most remembered for his pair of crunch-time buckets: a tip in between Whiteside and Luol Deng that put Toronto up two as the fourth-quarter clock read 1:22 and a foul-line jumper in overtime that pushed his team's lead to four. It was his individual success against Whiteside earlier in the game, though, that could provide the Raptors with a much-needed dose of offensive flexibility against the Heat.
Spencer: The Raptors play slow. They were the second-slowest team in the NBA this season, with only the Jazz playing fewer possessions. So any claim that dumping it down to Jonas on the block somehow doesn't match their style of play, or where the league is overall, is just wrong. They play a ton of isolation basketball north of the border, with DeRozan and Lowry either using Jonas and Patrick Patterson in a two-man pick-and-roll game, or simply going four out and playing one-on-one with shooters around the arc. They were seventh in points per possession this year, so the style of play works, too.
But it's not working at all in these playoffs, and that's primarily the result of their All-Star backcourt's case of the yips. As Jack already mentioned, they're last in points per possession among the remaining playoff teams, and things just aren't working on that side of the ball, even after tying up the Heat in Game 2.
But Valanciunas has been effective, especially against Whiteside, who just can't body the big man. In fact, the Lithuanian giant has to weigh close to 300 pounds (he's listed at 255, which is bullish*t), and we don't know if anyone in the modern game can really hold their own if he's throwing his weight around from the low block.
For example, he's given way too much time here to work. He sets up with one foot almost in the paint, and three dribbles later he's spinning for an easy up and under lay-in.
http://i.giphy.com/K3jaOQWwNw6T6.gif
Some of that's on the surrounding Heat players, who need to be swiping at the ball, even if their guy is just slanting through the paint to open up room. Luol Deng can't stay at home against DeRozan here. He's gotta double Jonas because the Heat would be amped to have DeRozan taking above-the-break triples. But some of it's just the fact Whiteside can't do anything once Jonas is that low.
Jack: As hard as Whiteside has worked to get shoulders and arms like Dwight Howard's, he still lacks the trunk to push bigger centers out of deep post position. Valanciunas fits that bill, of course, and he's just mobile enough to keep Whiteside's wingspan at bay with dribble back-downs and physical shoulder fakes.
But watch what happens when the Heat's star big man does early work on his Raptors counterpart.
http://i.giphy.com/LEAKV7ojtV2o0.gif
Valanciunas has a soft shooting touch; he shot 45.5 percent on mid-range jumpers during the regular season. If he wants to take face-up 15-footers, though, Miami will let him do it over and over again. It's not like Valanciunas has the short-area burst to beat Whiteside of the dribble, either. Even effects of his most physical offensive approach are mitigated when he's forced to catch so far away from the rim.
The scary part for the Heat is that Valanciunas could make things much easier on himself. He should duck in for this late-game post up with the same type of aggression he does quickness. Valanciunas simply retreats to the block instead, but his strength and fluidity down there coupled with Whiteside's upright stance yields an easy two nonetheless.
http://i.giphy.com/hAzHeblqqkRI4.gif
It's not the 1990s and Valanciunas is no Shaquille O'Neal. Basketball isn't about mano-a-mano battles between behemoths anymore, and Valanciunas probably wouldn't be a team's focal point even if it were. He's merely a good individual post player as opposed to a dominant one, which is totally, totally fine. There are only so many Al Jeffersons, and even those unicorns present limits that a more modern, well-rounded offensive ethos doesn't.
But here's the thing: The Raptors didn't play that way all season long, didn't play that way against the Pacers, and certainly haven't played that way so far against the Heat. Scoreboards suggest otherwise, but there's no difference between what they're doing offensively now and what they did for the past six months. Lowry and DeRozan, for a homogenous blend of reasons, just aren't making shots.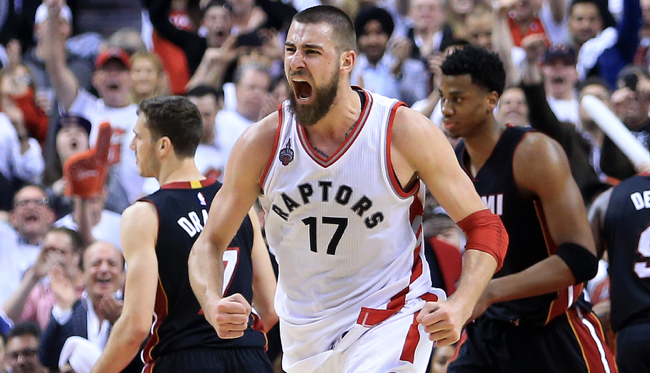 The Raptors managed to scrape by Indiana and are somehow tied at one game apiece as the Conference Semifinals head to South Beach. The overall results make it seem like what they're doing is good enough. But it isn't, and Toronto's bound to find that out as the Heat get their opportunity to play in front of a raucous home crowd.
So why not incorporate a healthy dose of Valanciunas as this series continues? It almost literally couldn't be worse than the Raptors' current approach.