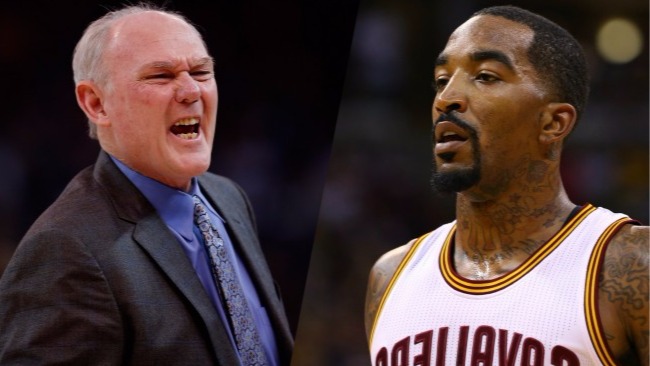 George Karl burned a lot of bridges during his coaching career, a function of his proclivity for going to the press about his problems with players, rather than to their faces. But if you thought he made enemies during his career, then you ain't seen nothing yet — apparently, he saved a lot of sniping and gossip for his upcoming book, Furious George, wherein he calls out former Nuggets Carmelo Anthony and J.R. Smith, among others.
In addition to claiming Carmelo Anthony didn't try on defense, he had this to say about J.R. Smith from their time together on the Nuggets, courtesy of a Newsday preview:
[Karl] said Smith had a "huge sense of entitlement, a distracting posse, his eye always on his next contract and some really unbelievable shot selection."
As we learned from the Phil Jackson/LeBron James saga, "posse" is common coded language for an old white man to use for a black athlete's friends, meant to imply that they're unsavory characters. Smith may have had his problems in Denver, but with that sort of attitude, there's little chance Karl made much of an effort to relate to his player before blasting him in the media, and now in his book. Smith has his own idea for why George decided to get "furious" so long after the fact:
Reggie Evans also came to his teammates' defense:
Considering Karl is out of a job and these statements reek of bitterness at his failed relationships, we're inclined to believe J.R. and Reggie here.
(Via Newsday)