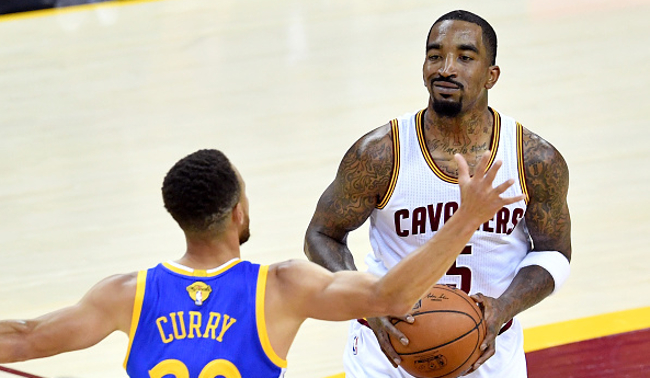 The Cleveland Cavaliers added a lot of new faces this offseason in an attempt to keep up with the Warriors and their historic collection of talent out West, and the organization has already announced significant lineup changes heading into the new season.
Tristan Thompson has been notified that he'll be relegated to a bench role as the team attempts to transition to small-ball, while Channing Frye was regretfully informed that he'll likely be pushed out of the rotation altogether.
After Cleveland signed Dwyane Wade, there was a lot of debate about exactly what his role might entail, but that riddle was quickly solved when Tyronn Lue told reporters last week that Wade will indeed be in the starting lineup for the Cavs this season.
While Frye remains stoic about his plight and Thompson is embracing the opportunity to vie for a Sixth Man of the Year trophy, J.R. Smith was unsurprisingly more perturbed about being moved to the second unit, especially after being a starter the past three seasons. But beyond his own individual considerations, Smith is concerned about the effect it'll have on his team as he told the Road Trippin' Podcast (prior to Richard Jefferson being dealt).
Transcript via Dave McMenamin of ESPN.com:
"So to revert back, and the first thing I thought about was New York, like, 'Damn. I got to go back to being the sixth man and just scoring, scoring, scoring. Being aggressive.' And at the same time, also, I'm looking at our lineup like, my first thought with the lineup was, 'OK, but who is going to stretch the floor? OK, we got Jae [Crowder], who is a knock-down 3-point shooter, Kev [Kevin Love] is a knock-down 3-point shooter, but that's two out of the five guys that's got to be on the floor."
Smith has a point. It'd certainly be better to have three shooters stationed around the perimeter, but when you have three guys in LeBron James, Wade, and Derrick Rose who are so adept at breaking down offenses off the dribble and creating opportunities for everyone else, they'll probably be fine.
Also, at Wade's advanced age and with his injury history, the Cavs will likely have him on a minutes restriction throughout the season, so there should be plenty of opportunities for Smith to shine. But in general, with all of the additions the Cavs made this summer, Smith and everyone else will have to sacrifice for the greater good.
(ESPN.com)