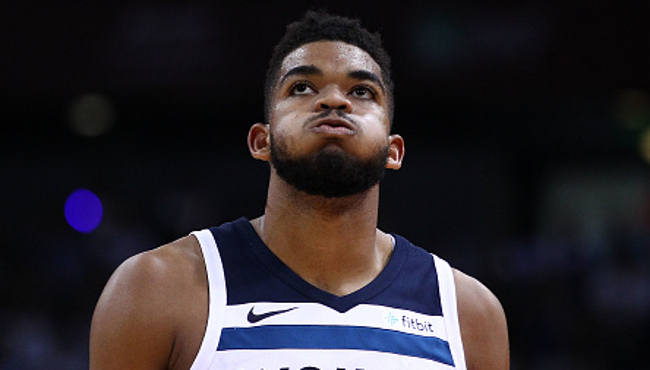 Hey everyone, want to check in on the most avoidable situation in all of the NBA? Cool, well, let's head to Dallas, where the Mavericks and the Minnesota Timberwolves (who are in the midst the aforementioned easily avoidable situation) played a thrilled and high-scoring game on Saturday night that Dallas won, 140-136.
The game happened while Jimmy Butler was back in Minnesota, resting on the second night of a back-to-back. This meant that Karl-Anthony Towns was the centerpiece for the Wolves, which led to him having a crazy night: 31 points on 9-for-16 shooting and a 9-for-10 clip from the free throw line. Thirty-one points on 16 shots is nuts, and of course, big men hitting 90 percent of their free throws is super impressive, too.
The one free throw Towns missed was noteworthy, though, because this happened.

If you've been living under a rock, Butler requested a trade from the Wolves, then disappeared for a while, then didn't get traded, then showed up at a practice one day and apparently worked the starters with the third-string dudes. This included — and seemed to be focused on — Towns, who was "distraught and speechless" after Butler showed up and gave him the business.
Here's the thing: All of this crap is nonsense the Wolves brought on themselves. Tom Thibodeau has been selfish in keeping Butler around, owner Glen Taylor has been timid about doing anything, and all of this stuff got ignored as being a major problem because Minnesota's coaches said stuff like "Jimmy showing up and doing what he could to embarrass our franchise player was, actually, good." Now, the Timberwolves are still in a position where they have to trade Butler and he wants out, only now, they've opened the door for fans and opposing players to do what they can to try and mess with Towns' psyche.
Ultimately, Minnesota just lost a game, and Towns, to his credit, did only miss one free throw in an otherwise brilliant offensive performance. But man, it's hard not to wonder if this stuff could snowball if he hears it every night that the Wolves aren't playing in their home digs. It's a really crappy situation, one that Minnesota could have avoided if they just did the smart thing and moved Butler a month ago before everything got out of control.