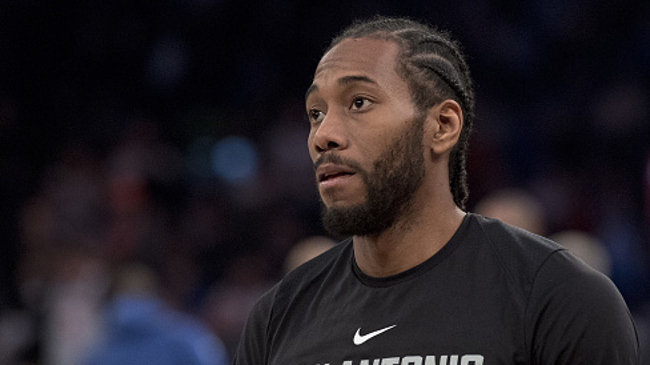 The long rehabilitation of Kawhi Leonard's quad injury is nearly complete. The San Antonio Spurs guard missed all but nine games this season with the nagging injury, forcing him away from San Antonio to make things right.
In the process, he drifted from the Spurs and caused plenty of speculation about his future with the team. But now that the offseason creeps closer we're getting some clarity about his injury status and what happens next. At least one teammate thinks Leonard is coming back to San Antonio this fall, but the relationship is still complicated. After months of weird tension and discord about the injury and the proper way to rehabilitate it, it's been widely reported that the two sides need to air grievances and find a way forward.
Shams Charania joined Chris Mannix on Yahoo's NBA podcast on Thursday and gave some insight about the situation in San Antonio this summer. Charania reported that Leonard is close to 100 percent and expected to be ready for training camp.

The Spurs still intend to "mend fences" with the guard and Charania noted that the two sides are much closer to a resolution than it appears from afar. He insisted that Leonard didn't "go rogue" by rehabbing in New York away from the team during the season, and said he's been close to Spurs staffers and Gregg Popovich as he mourned the death of his wife.
"Kawhi Leonard didn't necessarily 'go rogue', despite all the reports. He was working out with San Antonio staffers during the season and now going into the summer, his rehab has continued. He's been around. He went to Gregg Popovich's wife's service shortly after the season ended. People close to him, they made it clear he was there. He interacted with Spurs' officials, with staffers."
While that's good news for San Antonio, Charania said it's clear the team needs to clear the air with Leonard before either side can even address a new contract for the former MVP candidate. Leonard can get a supermax extension from the Spurs this summer to the tune of a 5-year deal worth about $220 million, but contract talks would come after a personal resolution.
"They've got to sit down and sort through all the issues before they can even get to any contractual number. There were a lot of miscommunications that went on during the course of the season they need to catch up on and rehash. They haven't had a full sit-down yet.

He's been around at different points since the season ended but they haven't sat down formally. Until they do, we would just be speculating. They need to get on the same page in a lot of areas."
That a resolution feels likely at this point is certainly a positive sign for the Spurs, who have shown no interest in trading Leonard. The rest of the NBA will have to wait for the results of this fence-mending meeting before they know if a move for the star is even possible. Either way, it's clear Leonard will return next season. The rest is still very much up in the air.