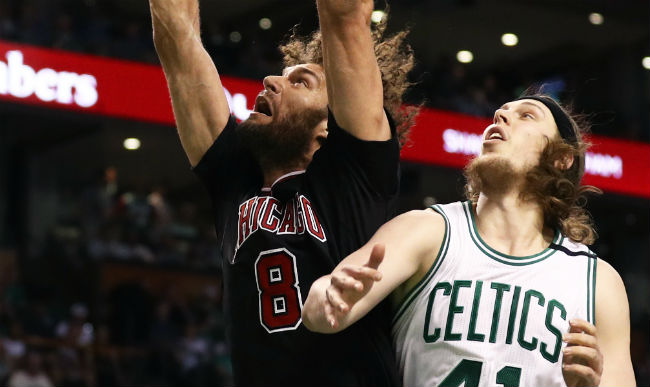 Kelly Olynyk is back at it practicing his MMA under the basket. This time, fortunately, he didn't do any real damage to the opposition.
Eagle-eyed viewers of Tuesday night's Celtics/Bulls playoff game noticed that Olynyk put Bulls center Robin Lopez into a classic armbar while the two competed for a rebound late in the third quarter.
Lopez tried to go up for the rebound after a Nikola Mirotic put up a 27-footer. Olynyk never reaches up for the ball, instead forcing both arms around Lopez's left arm and locking in as Al Horford came down with the board.
If that looks familiar to anyone, it's becasue that's exactly what Olynyk did when Kevin Love was injured two seasons ago.
Lopez finished the game with 18 points, eight boards and full use of his arms and legs. Olynyk had 11 points, 7 assists and a growing reputation for foul play.
Considering he got no punishment for ending Love's season in 2015, I doubt any punishment is coming for Olynyk. But officials—and players alike—will probably be keeping an eye on the Celtic as the series progresses. Chicago did get the last laugh on Tuesday—they took a 2-0 lead on the Celtics and the internet roasted them in kind.
(via Slam)