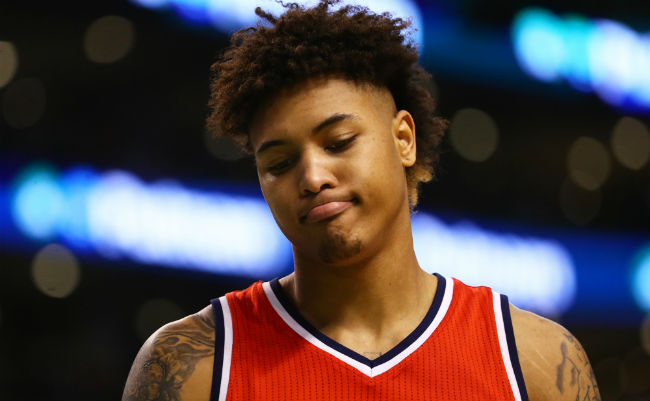 Kelly Oubre Jr. knew he'd hear boos from Boston Celtics fans on Wednesday night, but he and the Washington Wizards thought what he got from the TD Garden crowd was a bit more than expected.
Oubre was the subject of attention in a Game 5 Celtics win as the Wizards guard returned to the lineup after missing Game 4 for sparking a scuffle after a hard foul from Boston's Kelly Olynyk, who is obviously not a dirty player I mean come on guys really now let's be honest with ourselves here.
Anyway, Oubre Jr. was jokingly warned by head coach Scott Brown to wear earplugs when he returned to the lineup. Oubre Jr. said he was sort of looking forward to the boos because it "lets me know I'm alive." At one point, fans at TD Garden asked for him to take the court so they could give him what he wanted.
https://twitter.com/DefPenHoops/status/862466689300127744
When Oubre took the floor, the fans let him have it. I think he would have heard this even if he wore those earplugs on the floor on Wednesday night.
That's pretty clearly a Boston crowd saying "f*ck you Oubre," which it had time to put together because, for the most part, Boston led comfortably and took a 3-2 series lead with ease.
After the game, Oubre Jr. said even he was a bit surprised by the reaction.
"I still hear my name ringing in my head because that's all I heard when I was on the court," Oubre Jr. told reporters. "But I was just going out there to play."

Wizards guard John Wall said he "didn't think it would be those type of words" Oubre Jr. heard from the crowd, but given what Boston fans have been yelling at opposing players lately it's safe to say the Wizards got off easy here. Still, Oubre Jr. seemed to take the verbal abuse in stride.
"I mean, that was definitely expected. I wasn't really surprised with anything that I heard," Oubre told reporters. "Just the amount of people yelling my name, just singling me out is crazy. But it's definitely a blessing to be in this position. Monday, I want to get back here — we have to get back here — so we have to take care of business at home and get back here so I can hear my name some more. That's the goal, and that's what we got to do."
In other words, Oubre Jr. and the Wizards have to play well enough in Game 6 to give Boston fans another crack at them on Monday.