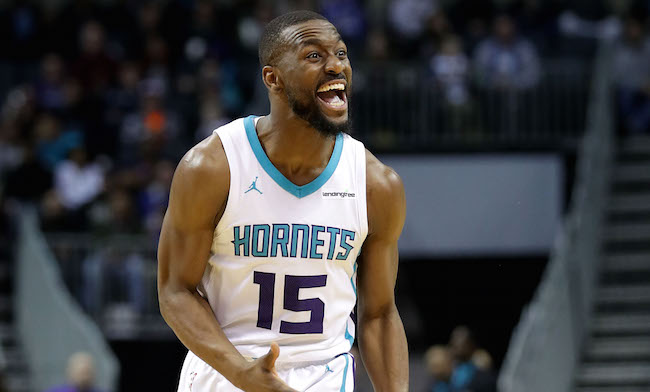 Kemba Walker's departure from the Charlotte Hornets is still fresh, but he's already making it clear to what Hornets fans remain after he agreed to a deal with the Boston Celtics on Sunday: it's the franchise's fault he's not sticking around.
Walker was lowballed by the Hornets, or at least it was widely reported that Charlotte did not offer Walker the max contract only Charlotte could give him. As a result, he worked out a deal with the Celtics, while Charlotte reportedly found a deal with former Celtic Terry Rozier enough in free agency. That's a result that struck many around the league as disappointing given Walker's repeated statements that he's interested in playing in Charlotte for the long haul.
Walker appeared on SportsCenter on Sunday night, hours after free agency officially started, and spoke about the deal and what it meant to sign with the Celtics.
"When you think of the Celtics you think of championships. You think of winning," Walker said. "That's what I'm about. I'm about competing for championships and winning. That's something I haven't been able to do throughout the early years of my career. I haven't been a consistent winner in this league and I felt like Boston was the fit for me to try and accomplish those kind of goals."
It was reported shortly after word of the deal came out on Saturday that Walker was interested in the Celtics because they could be primed for a deep playoff run, so that makes sense here. And when asked about leaving the Hornets, Walker put it bluntly: he wanted to stay, and gave everything he could to an organization that didn't value him as much as other teams did.
It's a particularly heartbreaking scenario for Hornets fans who hoped their franchise would do everything they could to hold on to their superstar Walker said countless times that he wanted to stay in Charlotte, but the team did not give him the deal many felt he deserved. Instead of being the player who stayed, Walker is just another on a list of players who found more outside of the Queen City.