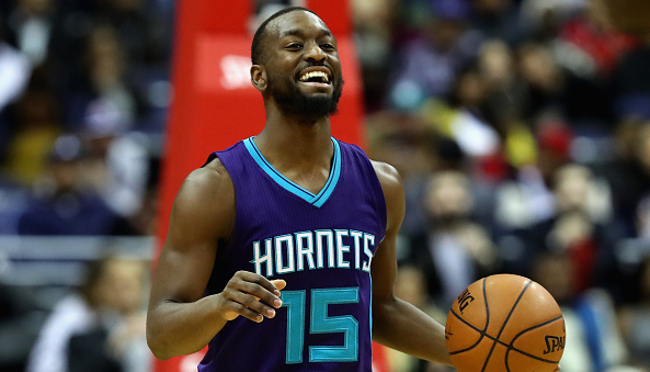 There's being on fire and then there's being whatever Kemba Walker has been over his last two games. The man known by Hornets fans as Cardiac for how clutch he is has now scored 103 points over his last two games. After scoring 60 points in a losing effort against the 76ers on Saturday, Walker came out on Monday and decided he would just do it all over again. As emotions overwhelmed him he screamed out "This is my city" maybe in reference to the constant calls that he needs to be traded, or "freed" from the Hornets.
What Walker did to the Celtics on Monday was disgusting. He's always been someone that can attack from multiple angles, thanks to a great handle, but it's his constantly improving efficiency that makes him deadly. His counterpart, Kyrie Irving, needed 25 shots to reach 27 points. In the fourth quarter alone, Walker had 21 points on 10 shots while the Celtics as a team needed 20 shots to reach 25. Walker wasn't just outscoring Boston he was outplaying them by himself.
https://twitter.com/TheNoLookPass/status/1064705205734801409
That's been the thing with Walker for the last few seasons. It's felt very much like him against the world. The Hornets have tried to put talented players around him like Nicolas Batum, Marvin Williams, and Cody Zeller but it's never been enough. The numbers have said it themselves for a while now. When the Hornets don't have Walker they just aren't the same team. If the MVP award really did go to the player that has the biggest impact on the court vs. when they're off the court then Walker would probably have won it last year (he or LeBron) and he'd be in the debate for this season.
Last season when Walker was off the floor, the Hornets had a net rating of -7.8 when Walker was off the floor last season and a 3.5 when he was on it. He drove that team. They needed him desperately, and still do.
The hardest part for Charlotte has probably been in clutch situations. The Hornets ability to lose games in the clutch has gone back multiple seasons. Whether it's a Jimmy Butler game-winner, a turnover, or just losing a hold on their lead the Hornets ability to give the game away has been something else. On Monday, Walker made sure to not give the Celtics a chance at stealing a win. He put a dagger right through them.

Walker is in a zone right now that isn't matched. The Hornets need to ride it to as many victories as possible. Don't waste this man's effort or his career. He's going to be a free agent at the end of the season and there's a chance he could leave. Charlotte needs to convince him to stay. What he did against the Celtics and 76ers put him on a list with players like Wilt Chamberlain, Michael Jordan, and Pete Maravich. You never trade that. You find a way to make it work.
Of course. That's a lot easier said than done.