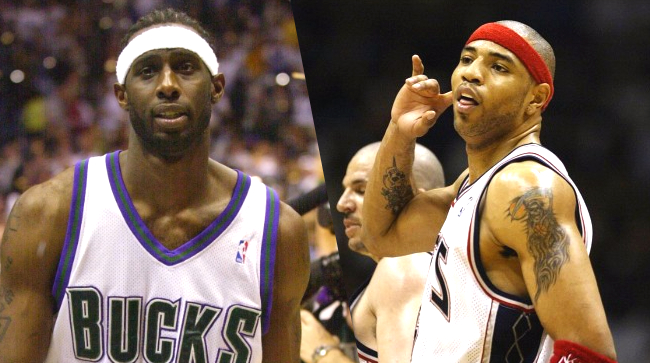 Kenyon Martin has been in the news recently, largely due to his fantastic response to George Karl's new book. In that book, Karl alleges that Martin did not fully reach his ceiling because he didn't have a father figure and, on cue, Martin blasted his former coach with an epic Twitter rant.
On Friday, it came to light that Martin could be participating in a boxing match in the near future. While it isn't with Karl (which would be something else entirely), it appears that the former NBA standout will be climbing into the ring wither another former professional basketball player in the form of Tim Thomas.
During their playing days, Thomas once referred to Martin as a "fugazi" and, in 2016, Thomas doubled down in referring to Martin as a "fake tough guy" during a radio interview. In fact, the two players have extended beef dating back to 2004 when the duo reportedly engaged in an altercation in a night club in Dallas. Martin was captured riffing about the event on a podcast with Adrian Wojnarowski of the Vertical in May 2016 and Thomas swiftly responded with his side of the story (via CBS Sports Radio).
"He decides that he needs to keep up this tough guy image in his interviews and was constantly using my name," said Thomas. "But that's not going to happen. Just to clarify what happened from his story, we actually ran into each other in a nightclub in NYC. I was tempted to fight by mushing him in his face and he just backed up against the wall. He wanted no parts of me. He completely left the nightclub after I let him go and I'm assuming he left New York because within 48 hours later, I had to do a charity event in Dallas and some of the story he was talking is exactly what happened in Dallas."
All told, it seems that this beef needs a final resolution of some sort and putting on a boxing match between the two retired athletes is apparently that outcome. Kenyon Martin and Tim Thomas aren't in the day-to-day NBA consciousness at this point, but this match would certainly draw some attention and we'll see if it actually transpires.