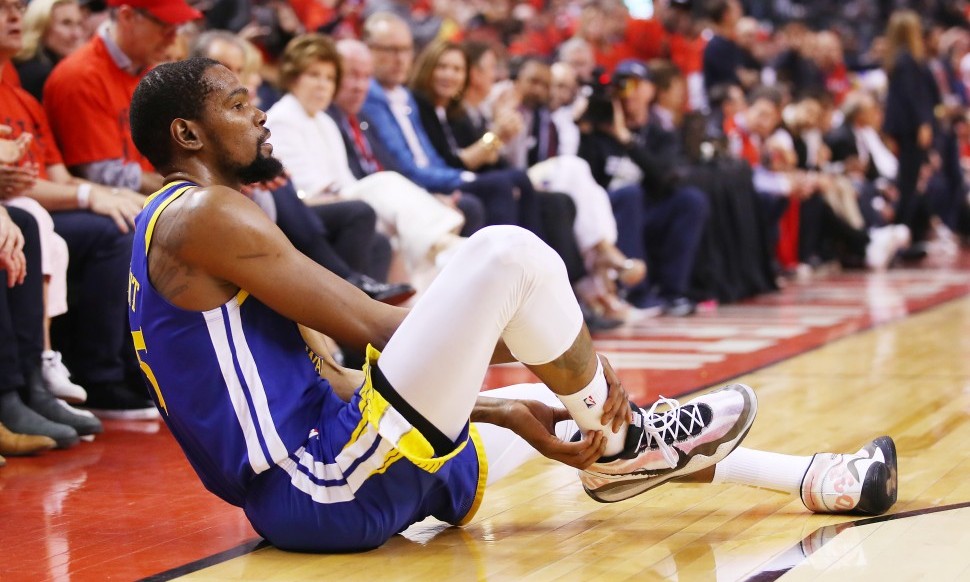 The Golden State Warriors entered Game 5 of the NBA Finals needing to pull off the nearly impossible, winning three straight to come back from a 3-1 deficit to the Toronto Raptors.
However, with the news that Kevin Durant was coming back after a 32-day absence with a right calf strain, they seemed to have as good of a chance as any to become the second team to ever accomplish that feat. Durant started the game off hot, scoring 11 in the first quarter and the Warriors' offense was once again humming right along.
Then, in the second quarter, Durant tried to push off that right leg and appeared to aggravate his injury, immediately dropping the ball and going to the ground, grabbing at the back of his leg.

It's a brutal blow for the Warriors in their efforts to come back, but the main concern has to be for Durant's long term health. The hope is he didn't do anything more than aggravate the strain, but entering a massive free agency summer, it was gutsy for him to give it a go knowing the risk was always there.
As soon as Durant went down, a number of current and former NBA players offered their best to Durant and thoughts on his effort to return to play.
https://twitter.com/VicOladipo/status/1138271357777657856
https://twitter.com/mchalmers15/status/1138271378271068161
Kendrick Perkins directed his ire at the Warriors for allowing him to play with a risk of re-injury.
Others, like Joel Embiid reacted to the fans courtside clapping and waving at Durant as he grasped at his leg on the floor.