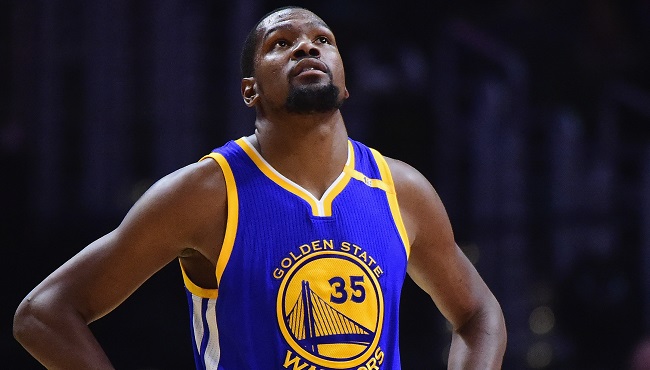 Kevin Durant exited Golden State's game in Washington on Tuesday under scary circumstances and the unofficial news isn't terribly encouraging. In the aftermath of the Warriors announcing that Durant suffered a hyperextended left knee, Adrian Wojnarowski of The Vertical brings word that people inside the organization are not all encouraged by the prognosis.
Durant underwent an MRI late Tuesday night to survey the knee damage, and team officials and members of Durant's inner circle were expressing fear early Wednesday morning that the severity of Durant's injury could preclude a return to the Warriors lineup before the start of the Western Conference playoffs in six weeks, league sources told The Vertical.
Here's the play that caused the injury:

While this is not fully damning with regard to Durant's future, these kind of whispers are not often met by unexpected reports of optimism after the fact. In addition, ESPN's Marc Stein and Chris Haynes are reporting that the Warriors are set to add enigmatic forward Matt Barnes to the mix, presumably as insurance for Durant's injury.
Barnes would provide a credible backup option for Golden State while, quite obviously, representing a rather lackluster option considering that the player that he would theoretically replace. In the same breath, it makes a great deal of sense that the Warriors would want to add a battle-tested, defensive-minded forward to the mix, especially when choosing between that option and Jose Calderon.
Confirmation of Durant's injury will likely surface on Wednesday when full MRI results are available but, if we read the tea leaves, it probably won't be great news for either the player or the team.