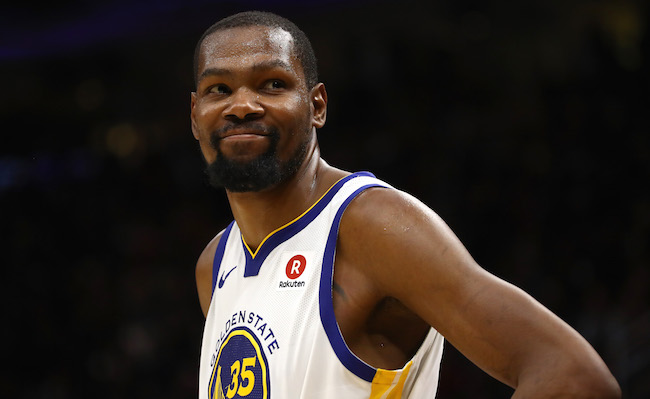 The NBA offseason is in full swing with the majority of top free agents signed to contracts for next season and Summer League entering its second week.
While the "silly season," as it pertains to wild rumors and speculation, is almost over, at this point there isn't a part of the NBA calendar that doesn't feature the bizarre. For example, on Tuesday, thousands of fans in Los Angeles flocked to a Culver City Blaze Pizza expecting LeBron James to show up for his first public appearance since signing with the Lakers after he tweeted something about a pizza party there. LeBron, meanwhile, was hanging out in his pool and never showed up to the dismay of those that stood in the heat awaiting his arrival.
LeBron wasn't the only one who made waves on Tuesday for strange reasons, as Kevin Durant returned to his natural state: being extremely online. Durant saw an Instagram post that claimed Kawhi Leonard, Anthony Davis, and himself were great players that didn't elevate their teammates like LeBron and Steph Curry. That, understandably, didn't sit particularly well with Durant, who took to the comments to rip the poster.

Durant wasn't done there, as he allegedly got in a DM conversation with the Instagram account explaining why he had hopped in the comments.
It's far from the first time we've seen Durant refuse to log off and, in all honesty, it remains the most human thing about Durant. As he notes in the DM conversation, just because he's rich doesn't mean he doesn't see things and have time to respond to them — which is usually the argument against him doing so. Should Durant be arguing with random people in IG comments? It's easy to say no, but it seems that he occasionally reaches his breaking point when it comes to criticism online and fires back, which is fairly relatable and, while not always the best look, reasonably understandable.