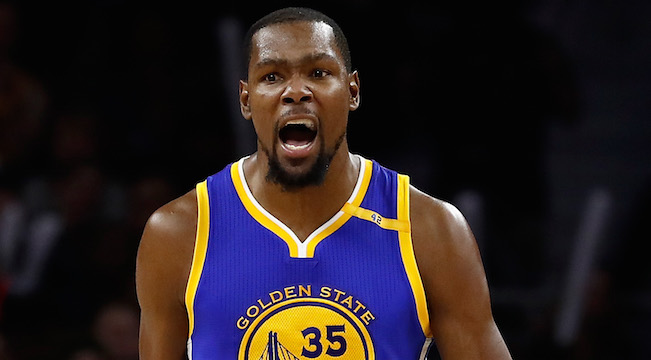 JaVale McGee and Shaquille O'Neal's feud was reignited by way of a Twitter war that took place late Thursday night and early Friday morning. McGee took exception to Shaq's latest efforts at making fun of him, which came by way of a video compilation of McGee's many miscues over his career.
This wasn't the first time McGee had found himself being laughed at by O'Neal, who has made McGee a regular on "Shaqtin' A Fool," and McGee's had enough of O'Neal's shenanigans and went off on the Hall of Famer on Twitter once again. The two traded Twitter jabs, with O'Neal threatening to fight McGee and McGee telling Shaq to "stick to cooning."
On Friday, McGee's teammate Kevin Durant came to JaVale's defense and took some shots of his own directed at O'Neal.

The "I didn't know cops could threaten civilians like that" comment is a jab at O'Neal who has been sworn in as a part-time police officer. That joke aside, Durant's frustration seems similar to that of LeBron James in his feud with Charles Barkley earlier this year. Durant noted that TV networks like TNT want these former players to poke at the current generation, and it's clear that he (and many others) are tired of the act.
Durant called Shaq's actions "childish" and said he would be just as upset if he was in McGee's position. He also agreed with the idea that Shaq's constant criticism and pointing out McGee's mistakes can have an adverse effect on JaVale's value when he's trying to get a contract. Durant got riled up while talking about it and called out Shaq's free throw shooting and said he "didn't have no skills" and was just bigger than everyone.
"Everybody can't be Shaq. [McGee]'s trying to make his money and enjoy the game of basketball and [there's] this perception of him that he's a dumb player because he makes mistakes on the court. Shaq was a shitty free throw shooter, missed dunks, airballed free throws and he couldn't shoot outside the paint. He was bigger than everybody. He didn't have no skills, but he was bigger and stronger than everybody. He was still a great player, but you had your flaws too."
Those comments will undoubtedly cause a reaction from Shaq, and like the Barkley-James feud, my guess is we'll see this continue over the next few weeks.