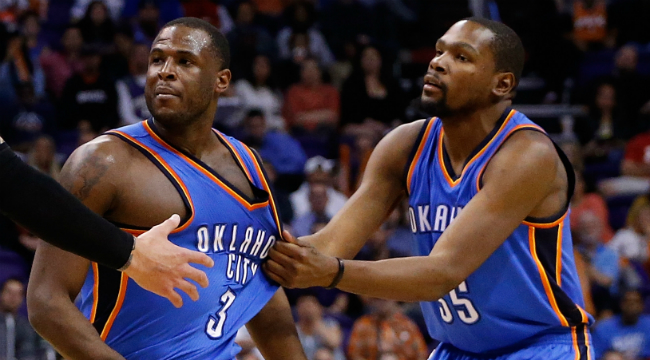 Dion Waiters is one of the most polarizing players in the NBA today. His on-court antics range from frustrating-to-amazing, but after stretches of inconsistent play with the Cavaliers and Thunder, he seems to have found a pretty nice basketball home with the Miami Heat. After signing a near-league-minimum contract with Miami in the summer of 2016, Waiters' solid play produced a somewhat controversial 4-year, $53 million contract offer out of Pat Riley, which Waiters quickly signed last summer.
Waiters hasn't been quite as good this season as he was in his first year with the Heat, but he's still playing solid basketball as a starting wing for a Miami Heat team that should be competing for an Eastern Conference playoff spot all year. That's an impressive turnaround for a guy whose career was trending in the wrong direction following uninspiring stops in Cleveland and Oklahoma City.
Waiters spent a year and a half in Oklahoma City when Kevin Durant was still a Thunder. With Golden State in Miami to play the Heat on Sunday, reporters caught up with Durant during shootaround Sunday morning to ask Durant about his old pal Dion Waiters. To say Durant was complimentary towards Waiters would probably be an understatement.
"I'm super nervous," Durant joked. "I gotta guard Ball Hard Waiters tonight."
Durant added, "I got a mansion, I own some property on Waiters island and it's just me. Just me and him. He knows what it is."
When the jokes were over, Durant talked about his real relationship with Waiters, and how proud of him he for how he turned his career around in Miami. "He's playing great basketball. I'm so proud of him. I know it's going to be a fun matchup between him and I. I don't want to call him my little brother, but he's my brother of a younger age. I learned a lot from him, he learned a lot from me, and it's just a great, great relationship that we have."
Who knew Kevin Durant was such a big Dion Waiters fan? And if Durant bought that mansion during Waiters' Oklahoma City days, that's what you call smart investing.