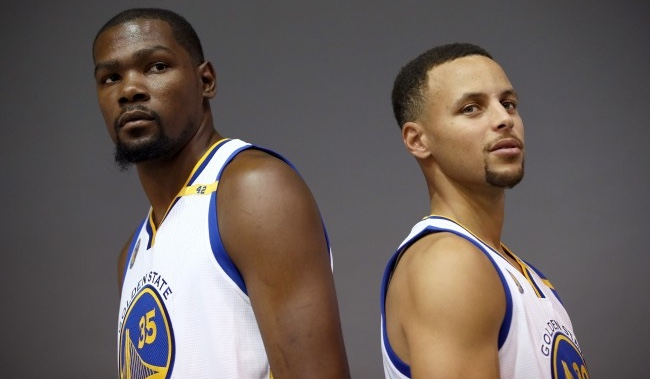 When Kevin Durant signed with the Warriors a year ago, it made them the heavy favorites to win the title for as long as he, Steph Curry, Draymond Green, and Klay Thompson remained together in the Bay Area. That was the on-court impact of Durant's decision to join Golden State, but off the court, it created something of an internal battle among Warriors' stars.
Steph Curry is the face of Under Armour basketball through the 2016 NBA Finals, Curry's sneaker had begun challenging the big boys at Nike, adidas, and Jordan in popularity. Durant is Nike's clear No. 2 behind LeBron James (although Kyrie Irving's sneaker sold more last year than KD), and his signature shoe just got it's 10th installment ahead of the NBA Finals, and there has been speculation that Nike possibly aided in pushing him to Golden State — Draymond Green, the most vocal recruiter of Durant, is a Nike athlete.
Even if they weren't an active participant in pushing Durant to the Warriors, the shoe giant was thrilled to have a signature footprint to challenge Curry in the ravenous Golden State fan market. Per Forbes, Under Armour's shoe sales — with Curry's sneaker being their biggest seller — had a massive first quarter of 2016 before fading significantly the rest of the year. There are a number of factors at play in that drop, but one could point to Durant's arrival and a strong Nike presence as at least a legitimate factor in the Curry sneaker tapering off.

So, while Curry and Durant work their magic together on the court, their sneaker rivalry is ever-growing. On the latest installment of the "Ask Kevin Anything" episode of the Bill Simmons podcast, Simmons asked why Durant didn't stay home in Maryland and why, despite that area being a hot bed, Maryland and Georgetown have not recruited especially well. For Georgetown, Durant pointed to a plodding, slow style of ball former coach John Thompson III taught that was a turn off to young players that prefer to push the pace. For Maryland, Durant said it was simply about the shoes.
"Well, for me, I didn't want to stay home. I wanted to see what was outside of that area," Durant said. "I think a lot of kids, to be honest, they don't choose Maryland unless they play in like an Under Armour system coming up. Shoe companies have a real, real big influence on where these kids go. Nobody wants to play in Under Armours, I'm sorry. Like, the top kids don't because they all play Nike."
Simmons asked Durant if he'd talked to Steph about this, to which Durant had a matter of fact response.
"Nah, but come on man, everybody knows that, but nobody don't wanna say nothing," Durant said. "The kids that played, that grew up in the Under Armour system, they go to Maryland."
Obviously there's some bias to Durant's comments, being a Nike athlete with a $300 million contract, but there is some truth in that statement. For one, it's no secret that shoe companies push top prospects to certain programs to keep them in their sneakers, which they hope will lead them to signing with their company once the prospect reaches the NBA. For Under Armour, there has certainly been some cooling off in terms of how much people want their shoes, as Nike and adidas remain the top dogs.