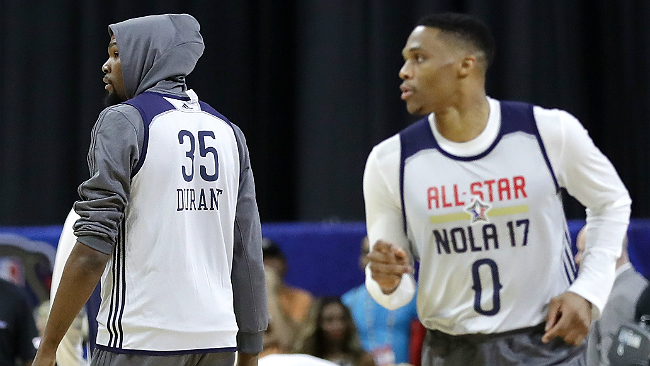 Finally, it happened. Everyone wanted to know what was going to happen when Russell Westbrook and Kevin Durant took the floor as teammates during the NBA All-Star Game.
Early on in the first quarter, we got the answer: the former teammates were going to pair up for a sick alley-oop. It was awesome, not only because it's cool to watch them put aside their beef for a moment because of a basketball game, but because it was reiminiscent of some of their best moments in Oklahoma City when they were arguably the best 1-2 punch in the NBA.
After it happened, the basketball world lost its collective mind. And who could blame them? The beef between these two is so weird that it's great to remember that they were best friends for years.
It was so much fun that even the bench for the Western Conference decided to have some fun with the moment
As one person pointed out, though, watching Durant set up Westbrook was never really something people were curious about. Really, it's about whether this will be reciprocated by Oklahoma City's superstar.
Let's end by checking in on the Thunder's SB Nation site, which reacted to this moment like all of us.
Basketball really rules.