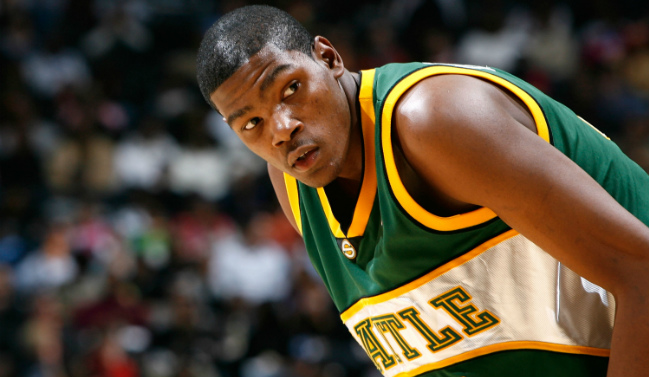 Kevin Durant had an NBA homecoming on Friday night, as the Golden State Warriors squared off against the Sacramento Kings at KeyArena in Seattle. Of course, the city was home to the SuperSonics, which selected Durant second overall in the 2007 NBA Draft. Despite the fact that it's been a long time since Durant has called the city home, basketball fans in the Emerald City responded to the former MVP like he was a local legend.
From the raucous crowd to Durant coming out during introductions in a stellar Shawn Kemp throwback jersey, it was an awesome display that reminded everyone that Seattle not having an NBA team is a sham. Unsurprisingly, Durant was asked to comment on this after the game, and made it clear that he believes the league needs to bring basketball back to the city.
"Tonight was the cherry on top as far as saying hey we deserve a team here," Durant said, per The Seattle Times. "We would support a team. They need to bring one back, man. We're going to keep saying it until it happens. All of us here. Everybody in that arena. Everybody NBA player knows it."

Durant didn't stop there. In fact, he went as far as to actively challenge the NBA to give the city a team, saying "Hopefully, the NBA does what it's supposed to do."
There are plenty of questions about getting a team to Seattle, like whether the league would relocate a franchise or just start a new team in the city. But like Durant said, Seattle deserves an NBA team, and with a brand new KeyArena coming in the future, perhaps that dream will become a reality.
(Via The Seattle Times)