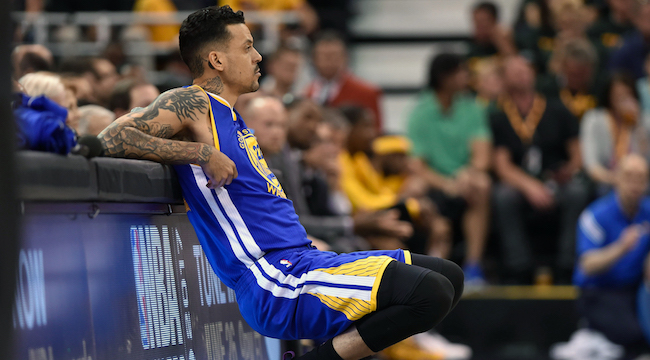 The origin story of Kevin Durant electing to leave the Oklahoma City Thunder in favor of the Golden State Warriors will always be intriguing. A new revelation came to light in the aftermath of Golden State's title-winning Game 5 victory and it included the words "I'm ready" from Durant to future teammate Draymond Green in a text message.
That comment, as well as a tremendous amount of additional context, emerged from a story by Lee Jenkins of Sports Illustrated.
One such nugget includes another teammate of Durant's in Matt Barnes, who may have played a role in spurring Durant to his new home with a jab at former teammate Russell Westbrook.
"The only person in the world who can stop you," Barnes crowed, "is your teammate." The most effective trash talk, Barnes has discovered in more than a decade of NBA rabble-rousing, is the kind spiked with the smallest shred of truth.
It, of course, is not a wild sentiment to suggest that Westbrook could have held Durant back in some ways, as much of the basketball world shares that view to varying degrees. Still, the nature of this kind of comment from an outsider can be biting and Durant's pursuit of a more "beautiful game" mentality on the floor with the Warriors flies in sharp contrast to that of the playing style next to Westbrook in Oklahoma City.
Attributing too much credit to one comment from Matt Barnes would be unwise but it does speak to the notion that he might not have been the only one sharing similar sentiments in Durant's direction. No matter the formula, Kevin Durant bolted for the Bay Area and things went pretty well from there.