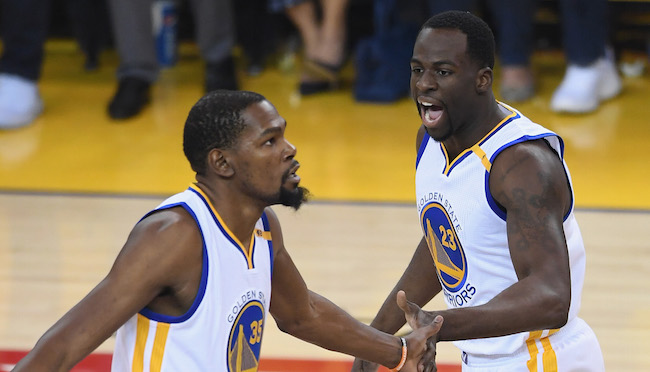 Kevin Durant's journey to an NBA championship came to an end on Monday night in Oracle Arena as he dropped 39 points on the Cavaliers in Game 5 to complete a 4-1 Warriors win. In the process of winning his first title, Durant also earned Finals MVP honors after scoring 31 points or more in all five games of the series.
After Game 5 there were no longer questions about Durant being able to play in big games and perform at the highest level. Yes, he did so on arguably the best team in NBA history, but he became the star on that team, surpassing two-time MVP Steph Curry in that regard in the Finals. After the game, Durant shared and celebrated the victory with his mother and gave an emotional speech following the MVP trophy presentation.
Nike ran an ad congratulating Durant for shaking off all the doubters that had grown and grown over the years, reaching a fever pitch when he left Oklahoma City for Golden State. No one was surprised that the end result was a title, but there were still questions about how and why Durant got swayed to leave for the Bay last summer.

An ESPN report from last week noted that Draymond Green made two phone calls from the parking lot after the Warriors' Game 7 loss to the Cavaliers in the Finals. The first was to GM Bob Myers, telling him to go get Durant. The second was to Durant himself. Over the weekend, Durant denied that phone call took place, as he grew tired of answering questions about why he joined Golden State.
However, we have more details on what went down on that fateful night in June, and know that Draymond Green did in fact reach out to Durant from Oracle Arena that night.
Whether the parking lot phone call happened or not, in an expansive feature from Sports Illustrated's Lee Jenkins, we learned that Draymond fired off a text to Durant from the locker room mere minutes after the Warriors' loss.
And so, at that locker, in that uniform, less than an hour after the most excruciating loss of his life, Green punched up Kevin Durant's number. "See what we're missing," Green says, recounting the text message he sent Durant. "We need you. Make it happen." Green had been courting Durant for months, but this was his strongest pitch yet, delivered at the most dramatic juncture. "Right after you lose Game 7," Green says, "shows you're serious."
As for Durant's reply. It came shortly after, with Green still in the locker room, as he recognized the opportunity to push Golden State to the next level and take a step towards building his own ring collection.
The Warriors would have to endure a summer's worth of mortifying memes—punishment for squandering a 3–1 Finals lead—but by the time Green peeled off his home whites and hit the showers, he could sense that his squad would laugh last. Durant's response flashed across the screen: "I'm ready. Let's do this."
Whether that parking lot phone call took place following those text messages, we might never really know, but Jenkins' report has receipts from Green that those conversations, the ones that brought Durant and a championship to the Bay, began minutes after the Warriors' crushing loss to LeBron James and the Cavaliers. Green was proven right, adding Durant made the difference in the Warriors being able to fight off the hard to kill Cavaliers, even when LeBron and Kyrie Irving went into elimination game mode.
Now, the question is how many more titles will the Warriors rack up before they either break up or a true challenger emerges.